Nicholas Helton had been running his chain of repair stores, iMechanic, with RepairQ for the last seven years. He has recently moved all 13 stores of his Indiana-based electronic repair company to RepairDesk. With their new repair shop software, the day-to-day operations of all iMechanic stores are now 10 times faster than before. 

History of iMechanic
Nick started iMechanic as a one-man shop back in 2010, mainly doing side repairs and buying and selling pre-owned devices. Two years later, he opened up his first brick and mortar store, which has now grown to 13 beautiful locations in Indiana and lllinois.
Living up to their motto, "We Repair it All", iMechanic offers repairs services for all kinds of electronics. From phones to drones, tablets and gadget repairs, locals trust their brand for everything they need. 
What makes iMechanic stand out among all other repair businesses is their openness to franchising. Out of their 13 locations, four are already franchised and they are still offering franchising opportunities to others who have a knack for repairing electronics. How cool is that?

iMechanic Repair Shop Software Background
As one of the oldest repair guys in the industry, Nick has seen it all. From a time when there was no software at all, let alone a repair shop management one, to the present day where you have a range of designated repair shop automation software, iMechanic has stood their ground choosing the best available solution at all times.
"Back in 2011, the industry was new and there wasn't any kind of repair software. We used a software called IMONGO, which was not designed for repair shops at all but it was the closest thing to a management software. Our employees who have been around that long still joke about it."
When Nick heard about the first comprehensive repair shop management software in 2013, he immediately got it for his business.
iMechanic had a pretty good run with their first full-fledged repair software for about seven years. However, as their business grew and the number of stores went in double digits, the software did not grow with them and started causing troubles.
"We naturally went with RepairQ as it was the first software in the repair industry. It did a really good job in filling a marketplace that didn't have any software at all. But I feel like, over the years, as the industry became more happening and complex, they just couldn't keep up." 
Nick started having second thoughts about RepairQ, as soon as iMechanic started to balloon up to more stores, more customers, and a bigger workforce. But he couldn't fathom the idea of switching his giant company to a better software, until..
"RepairQ was a stable software during the uptime, but what really started to hurt our business was that it became extremely hard to track things at our level. Like it was impossible to see what's going on in all 13 stores without tons of manual work." 

iMechanic's Big Move of Switching to RepairDesk
So iMechanic was having a rough patch with their previous software and Nick was considering the option to switch. At that point, he had heard of RepairDesk but never really tried it out. One fine day, he did and then never looked back (happy tears!).
"I signed up for a free trial, had a look at the RepairDesk POS, and liked everything about it. The more I played around with its features, the more it clicked with my business needs and I knew this was the one."
All along, Nick had a hard time deciding between switching or not switching to a better repair software because he was intimidated by change. He was convinced that the switching process was going to be a nightmare. Turns out, it was anything but. 
"One of the reasons why we stayed with RepairQ for so long was because switching looked like a super daunting task. We had firm operations at our stores and switching meant changing everything, from how we close a cash drawer to how we check a customer in. But with RepairDesk, everything was just so streamlined and flawless that we couldn't be any happier."
Two months in and everything spells good-kind-of-change 
It has been two months since iMechanic joined our RepairDesk familia. They are loving it and so are we. (moonwalk)
"Everything, from the way you check in a device to how the module is set up, is best helping our business. I love how we have the repairs, accessories, and pre-owned devices all-in-one space but they are also sorted out, so we can easily sell everything as well as track all our sales." 
With just the streamlined workflow of their new POS software, iMechanic is saving like a day's worth of manual work and spending it to increase their sales.
"RepairDesk has definitely improved the day-to-day workflow at all our stores. All the operations (repairs, sales, and payments) are done within 4 to 5 clicks rather than 25 to 30. Similarly, I can also see how each store is doing from one screen, whether it's checking their inventory or looking at their sales, all I have to do is click on the multi-store report and everything is right there. I'd say we have cut down the time of manual checks from 20 to 21 hours a week to only an hour, which is a big plus for sure."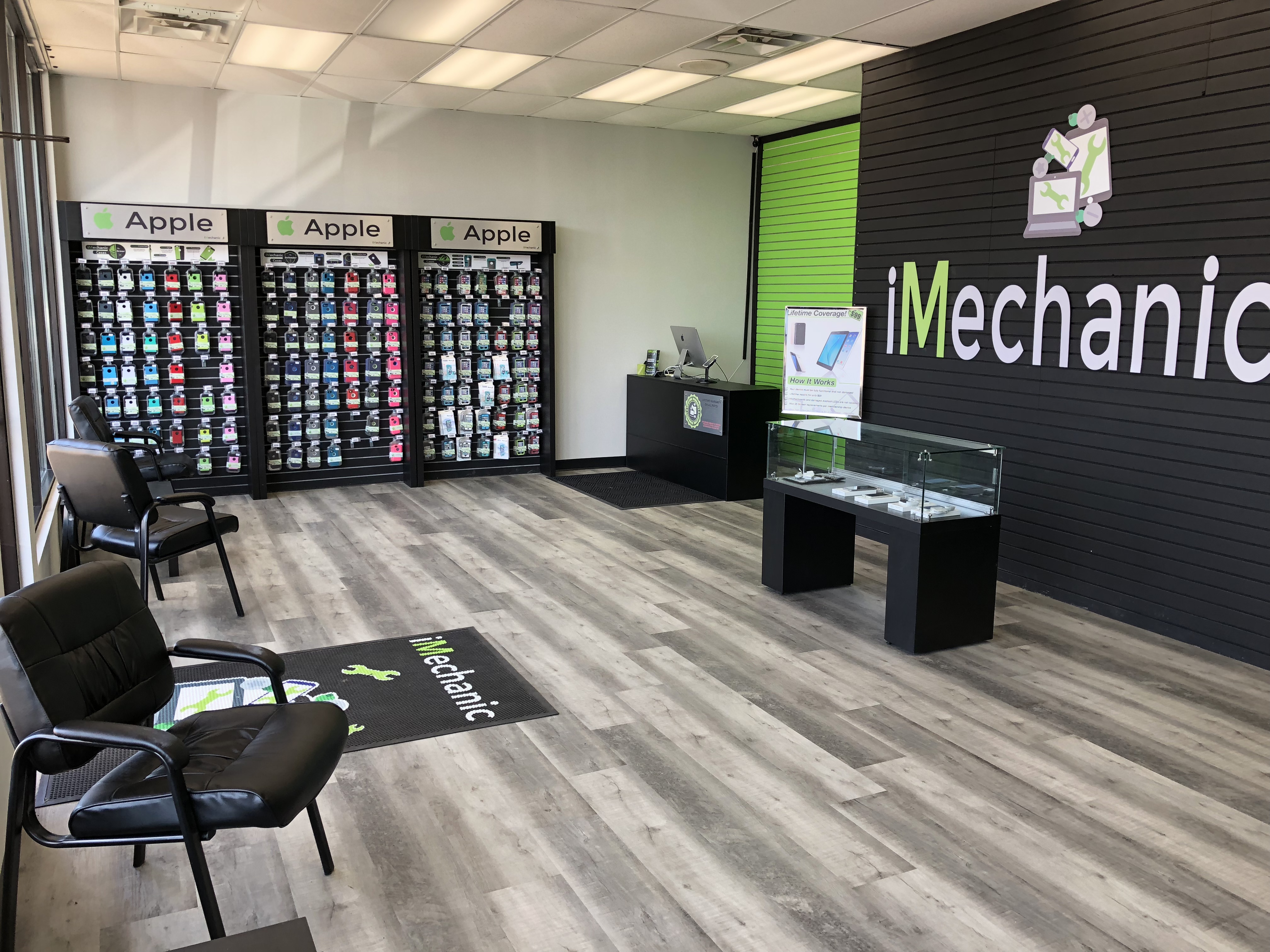 One thing Nick has always wanted in his repair shop software was a set of integrations with the hottest repair part suppliers and payment service providers. RepairDesk not only made his wish come true with its kick-ass supplier integrations, but also gave iMechanic a little treat with its inhouse payment integration.
"I love RepairDesk Payments because it's more than just a plain payment service. There is so much creativity going on with the terminal, we can display our store ads on it or put the latest items on its screen, and the tipping option is our absolute favourite. The terminal setup was also dramatically easier than I thought."
The new repair shop software has also given Nick more control over his multi-store business. The software is serving him as both, his third eye in monitoring employee activities and a helping hand in managing his nine stores and four franchises.
"RepairDesk has helped me a lot in managing my multi-store business. Take the employee roles and permissions for example, simple but extremely handy when it comes to managing an employee force of 40 peers. I can easily control who can see what and what not, something that was missing in RepairQ. We are also setting up the franchise management feature for our four franchises and have high hopes for that."
RepairDesk is not just a POS software, it's a partnership!
RepairDesk is so much more than just a repair POS software for managing your repair business. It is a partnership that goes beyond business, something that won Nick over just like our friend Denis from First Response Phone Repair. 
"You know, I like RepairDesk because it has a lot more to offer than other repair shop software and it had all the integrations that I was looking for like the BuyBack Widget, the Self Check-in, Customer Facing Display, etc. But I love RepairDesk because it gives us a feeling of partnership. We can talk to their CEO and the support guys anytime we need and they are always there for us."
Thanks a lot to our new friends, Nicholas Helton and iMechanic, for sharing their experience of switching their big repair business from a good-enough POS software to the best in town. We hope that it helps more repair shops who are still stuck with their dull POS software on the hands of the fear of change.
At RepairDesk, we not only provide the best management solution to repair businesses but we also make them feel valued and special, something that we take immense pride in. If you are also struggling with an out-dated repair software, RepairDesk is home for you. Try us out just like Nick did and, we promise you, you won't be going nowhere else.