In November 2020, with the pandemic raging at its peak, two important things happened in the Arkansas River Valley.
---
The first of these was the saddening, progressive unraveling of the original, old guard at Gadget Grave. 
A tech repair tycoon in Northwest Arkansas where Thomas Howard had worked (and developed his business idea) for over five years.
Launched and scaled by the legendary band of Cole Thornton (Co-Founder), Aaron Price (Co-Founder), Alex Gordon (GM/Tech Manager; later part-owner), and Allen Gordon (Technician Manager; Micro-Soldering Wiz); who had later taken Howard, a current UAFS business student, under their tutelage – grooming him to take up the reins one day.
Since its founding, Gadget Grave was considered something of a nurturing cradle for professional repair techs in the state's Fort Smith (company HQ), Fayetteville, and Bentonville locations – where the business maintained its three brick-and-mortar outlets.
---
"By the middle of the decade – circa 2015-16 – Gadget Grave was at the pinnacle of the local repair industry; with its owners generally thought of as the field's forefathers."
Thomas (recollecting on what was…)
---
Boasting combined annual revenues in the $3-$4,000,000 range (thanks to a sturdy POS integration and Allen's resolute anchoring efforts). One of the first electronic repair store chains in America to net multi-million dollar earnings.
A widely considered 'field pioneer' whose initial business model, on account of its noteworthy public success, continues to be replicated by aspiring techs spread nationwide looking to make it big in the domain.
But for a brief interlude after the March of 2020 and prior to its dismantling, the company's affairs started to go south following the induction of new ownership; freshly installed and unprepared to deal with the ravages of the virus, similar to most businesses at the time (unarmed with the right SOPs). The result was largely expected.
Part of the reason for the dramatic revenue downturn experienced during this period, in Thomas's retrospective words, could be attributed to the COVID-impacted parts supply chain delivering trade tangibles from Asia – the materials' backbone for much of the global repair industry. Customer walk-ins, owing to the obvious, had also dwindled, giving rise to a general feeling of stress and uncertainty among both management and workers.
Lay-offs, prompted by management, had started to occur by early 2019, in sync with a number of walkouts. Things came to a head in November next year when the owners finally decided to close shop.
---
The second was the desperate workup to the entry of a new player on the scene.
One channeling the best of old learnings – while marching stoically forward.
A natural successor to the above guild, eventually launched in March 2021 by a more experienced Thomas in partnership with Allen (now Director of Technical Ops). Named TechSpot, located in Van Buren, and focused acutely on the provision of quality repairs. Relegating the concern of service pricing to second place – though still ensuring competitive affordability. Geared towards achieving complete customer satisfaction and quick turnarounds.
Scoring an impressive $275,000 in POS gross revenue, courtesy RepairDesk, in only its first year. Operating, astonishingly, for only two hours a day in the first month, with weekends kept off (even to this day).
Enshrining the virtue that the tech's family takes precedence, that work/life balance cannot be ignored – an issue held deeply personal by Thomas owing to his beloved mother's suffering from a rare form of cancer and his single-parent raising of an active 7-year-old.
Both individuals, in addition to Thomas's father and sister, are key life influences – always pushing the prodigy to excel further with loving, playful tenderness; driving home the importance of kin (the only real, comforting hinge in this world's constant rat race).
---
"My mom is a huge motivator and reason for why our core values are so important to us."
Thomas (referring to a formative influence)
---
Another important motivation behind the ambitious opening: to provide Gadget Grave's disbanded workers (considered a 'family of 25') with a stable, dignified employment plane. Because during the winter months post-exodus, Thomas and his skilled cohort were forced to work everywhere – even in rough parking lots – to make ends meet.
The young shop owner, in fact, had to channel all his savings, in addition to borrowing funds from family and friends, to give birth to the dream. Outside investors, interested in only the bottom line, were largely dismissed on principle; and over the course of this formative timeframe, Thomas was able to secure a grant worth $7500.
TechSpot formally opened shop on March 1 – against a startup cost of $15000 on a 700 sq. ft premises.
And although the company's present team dynamic – with Thomas additionally serving as the lead brand marketer plus customer engager and Allen taking care of the executive, technical work – is only two braves full, the aspiration to accommodate and recommence growth with all former associates still stands.
---
"Without any partners, we just met people in parking lots until we had enough business to get a physical location and we've been growing ever since…my dream would be to get everyone back to work but for now it's just mainly been me and my partner Allen."
Thomas (Reflecting on growing pains)
Third time's the charm: an overview of TechSpot's services (since March 2021)
TechSpot's going service motto, enshrined in bold font on its website, reads both approachable and heartfelt:
'If it is worth fixing to you, it is worth fixing to us.'
Although the brand's primary concern is with processing cell phone, tablet, laptop, and smartwatch repairs, they cater to the full range of electronic device fixes. So, on any given day, it's commonplace for customers with broken game consoles, hoverboards, drones, and the like to walk in for a thorough restoration.
These repairs can be booked both online and through the traditional – physically interactive – way. The website additionally allows customers the options to choose 'Quick Repairs' (one-minute default chatbot quotes), 'Custom Quotes' (service costs for devices not among the primary repair listing; requires form input), and 'Bulk Repair' (for 5+ device repairs/order).
---
"I want our success and commitment to our values to speak for themselves and honor everyone who's supported us from my family, former coworkers, local community, and the people who share the same values in the industry."
Thomas (Stressing values; honoring longtime supporters)
---
The bulk of orders are completed the same day (think screen replacements and power plug fixes; even detailed board micro-soldering works), but TechSpot's techs do request in-person checks to provide accurate ETAs and job price quotes.
In the last few months, the company has even started emailing a repair-industry-dedicated newsletter on free subscription – complete with general, DIY, tips for people to see to their own minor repairs.
Two brand services deserve special mention.
The iPhone Buyback Offer and 'Lease to Own'.
The first, as the name suggests, provides a complete iPhone reimbursement solution to owners. Even if the phone is broken, TechSpot agrees to provision the repair work for eventual exchange.
The lease-to-own is a customer magnet like none other; different because it calls for $80 or less in downpayment deposit to purchase a device from the store – and on account of the manageable payback timeframe.
---
Praise for Everything RepairDesk – and more (in his own words)
"Throughout this transition (from Gadget Grave to TechSpot), Cole and Alex have been like a family to me. Mentors, who, among other people like Usman (CEO RepairDesk), have helped me to shift from the employee to employer mindset."
---
"By the end of 2021, with us only doing the weekdays, we managed to rake in $275,000 in gross revenue with
RepairDesk POS
!"
Reporting an Astonishing Feat
---
"We couldn't have done this without Allen and my other mentors from the community. Also, throughout this time, the entire RepairDesk community, with Usman, again, at the helm, has simply been phenomenal. Helping us right from product onboarding to operations – not clamping their help and kind advice even on the occasions when I might have gotten a bit flustered over a few things (for which I'm eternally grateful).
"Emblematic of the caring culture we had at Gadget Grave – what I've also tried to foster at TechSpot."
---
RepairQ vs. RepairShopr vs. RepairDesk Comparison
"Initially, at Gadget Grave, we used RepairQ; but overall, from POS to inventory handling, this didn't amount to a good experience. Then we shifted to RepairShopr: a better alternative that kept our sanity intact. I only became hands-on aware of RepairDesk just before our launch with TechSpot – the best POS so far, in my opinion, to manage multi-store repair businesses."
"Narrowly, RepairDesk's seamless components integration was what sold us."
---
"I've often talked to Cole about this – and he agrees it would've been awesome if we had the tool (RepairDesk) at GadgetGrave"
Quoting Cole Thornton
"And now, after much lengthy experience with the utility, I can say with confidence that RepairDesk is one hundred thousand million times more efficient in everything than its competitors!"
---
RepairDesk's Pattern/Code Lock Storage Feature: A Life-Saver!
"I still recall watching the product demo that the guys at RepairDesk gave me. As soon as I saw the in-built phone lock pattern and code storage feature, I was like – take my money and get me signed!"
"RepairShopr never offered this facility. And before RepairDesk, we had to manually record customers' phone security patterns by hand on sticky notes for unlocking during repairs. A really unprofessional way to go about it. Now, with a single click, we can get the patterns right on our screens for easy reference."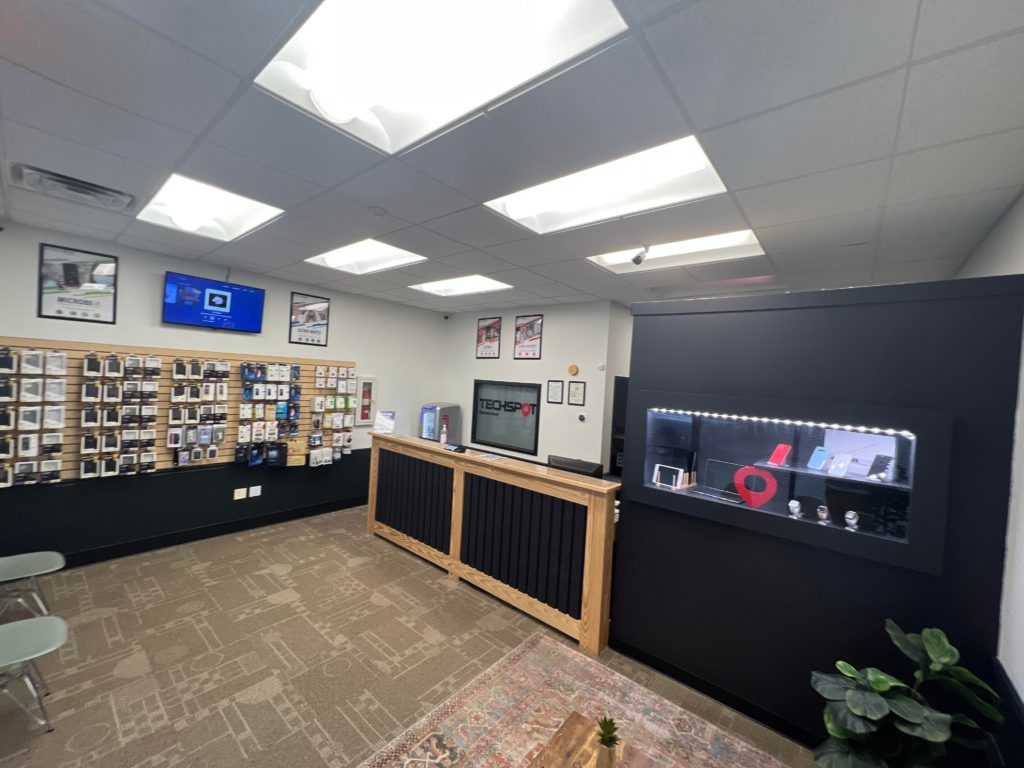 Ode to RepairDesk's Customer Support Service
"I've already paid homage to RepairDesk's customer support service. Let me add to this by saying that these guys have never shied away from stepping to the fore whenever we've approached them with a query."
---
"Usman's constant availability on the public Facebook RepairDesk User Group is the cherry on top. You can't get a more personalized, top-management-available, customer experience than this!"
Commending the CEO
---
"When we made the shift from RepairShopr to RepairDesk, the customer support team was instrumental in getting Gadget Grave's 65000+ clients' data to the new system."
"Now, whenever one of our older customers walks in at TechSpot, we can easily pull up their info – both surprising and gladdening them in the process (since they don't need to dispense with everything over again). This comforts them with signals of familiarity – that they're in safe hands."
---
Thanks to the Supplier, Marketing, & Customer Outreach Integrations
"With RepairDesk, our day-to-day shop processes flow like a breeze."
"The software integrations with major parts suppliers like Injured Gadgets and MobileSentrix mean that we're never out of repair tangibles in our inventory. Everything on the POS is intuitively linked; I'm certain we would never have been able to score the revenue figures we did without it."
---
"I love the integrations that RD uses with other suppliers. It makes doing PO's and buybacks super easy, and it's going to be even easier now that RD 2.0 is out."
Thoughts on RepairDesk Service Integrations
---
"As part of our initial marketing campaign, I used the Mailchimp integration to send out mass emails with $5 coupons to generate leads. A much better recourse than having to go about physically to incentivize/capture new customers – as we often did at Gadget Grave."
"In our daily operations, we adhere to a strict set of SOPs (more stringent than what you'd find in a typical repair business)."
"We're big on transparency; something that RepairDesk helps us a lot in achieving – with its comprehensive customer updating features which keep clients current with when one repair stage has been completed and when another begins). Since our website orders tracker is connected with the software, this process proceeds automatically."
---
"I would rather overload my customers with all the info pertaining to their repairs and have them leave a little bit more knowledgeable than try to rip them for cash the same day (the 'good/ethical business vs. good profits' mindset)."
On TechSpot's Commitment to Transparency
---
"At Gadget Grave, I made it a habit to call customers a week following their repairs to check if their devices were still working properly. Now, RepairDesk makes this work easier with its email outreach feature."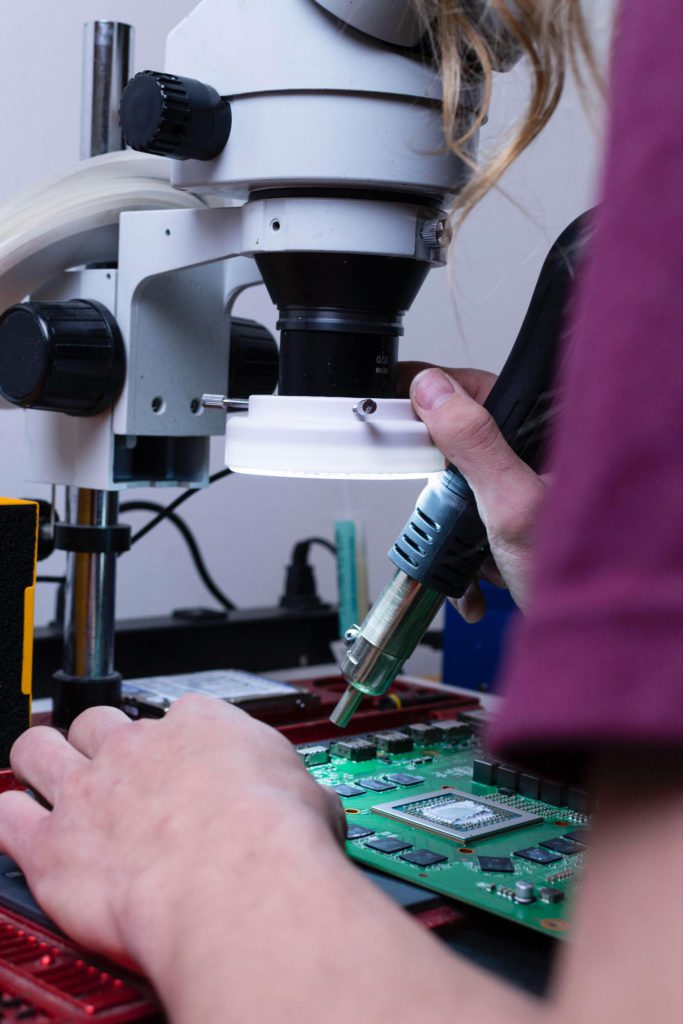 Scaling with RepairDesk Capital
"At TechSpot, we've even reaped a lot of benefits from the RepairDesk Capital program. This has allowed us to scale and make upgrades to our current location."
---
What's Going on at the Moment (plus thoughts on the future)
"We're not taking any new hires right now – it's just Allen and me. Honestly speaking, with RD's world of stellar integrations and service features, we're doing just fine. And until we really scale our operations, draw revenue beyond the mid-6-figures, I don't think we need more hands on deck."
"At the moment, we're also looking to build our B2B clients portfolio. Corporate customers – in addition to the regular walk-ins. Presently, we've got tourist gear sellers, law enforcement agencies, and logistics companies – which require a lot of micro-soldering work – on board."
"Our current revenue breakdown by source is something like 45% repairs, 40% retail, and 15% other products. And last I checked, we've got 5-star reviews on Google – based on about 144 customer testimonials."
"We're currently discussing the possibility of offering a lifetime warranty on repairs."
---
What Customers Should Know
"We don't advertise our prices."
"We would never claim to be the 'cheapest in the business' or price-match repairs. Our sole concern is with repairs quality – in providing the best service experience we can muster."
"As far as up-selling is concerned, I think the salesperson's motivation to do so has to closely align with the customer's need. I'm a firm advocate of cultivating natural connections with clients."
---
"If there is nothing here that is not going to provide you a solution to the problem you originally came in for, don't buy it. And we're never going to pressure you into buying it." 
"Now, we will try to get your device into a case and screen protector because that's just sensible prevention. Overall, if we're not providing a practical solution, I'm just not interested in upselling."
A Going Customer-Centric Mantra at TechSpot