Bearing the fruit of a successful repair business today, Marquess IT Solutions, Kevin Lee Marquess has never had it easy. Struggling everyday, going through many trials and tribulations, Kevin started his repair business from scratch with his own hands. Today, he has built his way up to a respectable position in his community. Let's see what made Kevin stick to his dream and how his unwavering resilience was the answer to overcoming the countless challenges in his way.
The Forbidden Fruit
Kevin's story started from humble, conservative beginnings. His family believed strongly in rules, and these rules are what Kevin wanted to go beyond. Owning gadgets, exploring technology, and charting his own course was the dream he always wanted to pursue.
It was this dream that drove Kevin to tinker with his guitar equipment, or keep tabs on the latest technological trends. His parents may not have been able to understand it, but Kevin was fascinated by technology and could read it like a book.
The strict rules in the house meant that Kevin had to keep his technological interests a secret. It's why he covertly bought an Averatec laptop and an HTC evo 4G while still living with his family. They were his treasures, his "forbidden fruit," and they sowed the seeds for what was to come years later.
How IT All Began?
In 2009, while cruising back from his trip to Annapolis, Kevin and his friend, Zack decided to make a pit stop at a bridge in Cambridge, Maryland.
While strolling along the bridge, Zack dared his friend to jump into the water underneath. Kevin accepted his challenge and took the plunge, but it came with a grave cost. He had placed his cell phone with care on a ledge, but found it on the ground after his jump and its screen cracked.
Kevin's prized possession, his treasure, was damaged and needed repairs. Fortunately, his secret laptop came in handy, and Kevin set straight to work on fixing his damaged phone in the back of their car.
After struggling for hours to find parts online, he found the exact digitizer and tools that he needed and got to work. A couple hours more of scouring internet forums and reading scant guides online, and Kevin had pulled off his first-ever successful phone repair.
That first phone repair set Kevin on his path to success. After talking about it with his friends, he started getting requests from others to fix their cell phones, which Kevin happily obliged. News spread of his work, and repair jobs started pouring into his Maryland condo which he established as his makeshift repair lab. Taking it a step further, Kevin put his home address on Google to get more repair jobs. With little competition in his area, Kevin's magical hands became the talk of the town.
As business rapidly grew, Kevin knew it was time to take the next big step.
Collaborations With Family Businesses
At age 21, unable to afford a brick-and-mortar store, Kevin set out to explore other options. He decided to collaborate with his family friend's business – 'Resort Homes'. Kevin set up his shop on the upper floor and used their address on Google to get more repairs.
After two years, Kevin began facing trouble with the rules that Resort Homes had laid down. It was becoming difficult to operate there, so he decided to move to his family's seafood place, 'Crabs To Go' and worked there for a few seasons.
What followed was a number of years hopping from location to location, each one being more cumbersome to work in than the last. Kevin worked hard to run his repair business out of the family's locations, but his real moment of freedom came when he moved to a place called 'Raceway Citigo' and he worked there for the next couple of years.
That moment was a game-changer for his business, which began flourishing thanks to finally finding proper space to work in. With everything finally going right, Kevin's repair business was about to cross a major milestone.
Solidifying His Repair Business
With the amount of work coming in, Kevin knew he had to start getting serious and establish a proper store. He needed the space to store his parts and tools, work on different repairs, and deal with customers.
So, he opened doors to his very first brick-and-mortar store in 2017. The business was running fine, and Kevin was living his dream. But in just two years, the worst happened – the COVID-19 pandemic hit.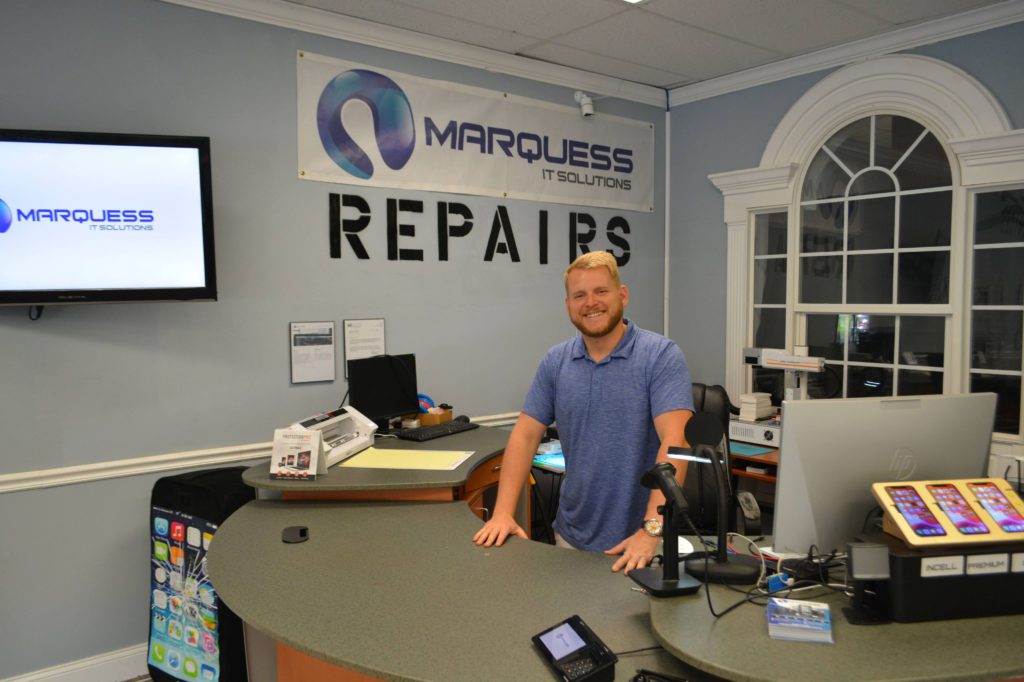 One-Man Show
The pandemic completely changed everything and Kevin could see himself drift away from his goal of expanding his repair business. Employees were too afraid to come to work. And Kevin was on his own.
With other repair shops closing down, and even Apple and Samsung shuttering their service centers, people did not know where to get their devices repaired amidst the pandemic. Since Kevin had painstakingly kept Marquess IT Solutions open, he received an influx of business that was more than he could have dealt with.
Kevin's resilience saw him single-handedly deal with incoming repair jobs, all of which he seemed to manage pretty well. But the repair jobs were like a never-ending torrent, continuing to come Kevin's way with no signs of stopping.
It was then that he started facing problems managing everything on his own. He was unable to keep track of all the repairs using a pen-and-paper system. He knew he had to figure out a solution, otherwise everything would slip out of his hands.
Repair Shop Software
Kevin Marquess signed on for RepairDesk in June 2020, and it was a lifesaver for him. Problems with repair tracking, ticketing, inventory, ordering parts, invoicing, reporting etc. all were easily managed with it.
Although Kevin had tried many tools to help manage his repair business, RepairDesk was one of the ones that made it fly.
Here is what Kevin has to share from his experience at that time and how our repair shop software has helped him.
"So there are a few things that I did. It wasn't just RepairDesk. But RepairDesk was absolutely the biggest help out of all of them".
Sign Up for a 14-day FREE Trial!
Automated Answering Machine
With other places being shut down due to the pandemic, people kept calling Marquess IT Solutions for their repairs. Kevin had to answer these calls, but they just kept on coming.
Being the only person there, it became almost impossible for him to attend calls and do repairs simultaneously. So, he came up with an automated answering machine to attend to trivial phone calls. As a result, customers started hearing the following message:
"Hey! Thank you for calling Marquess IT Solutions. Our hours of operation are Monday through Friday, 9:00 AM to 6:00 PM. Saturday 9:00 AM to 4:00 PM. Sunday 10:00 AM to 4:00 PM. We're accepting all walk-ins."
This automated answering system helped cut down Kevin's time on managing things significantly, which meant that he could work more on the actual repairs themselves.
Word Of Mouth
Since Marquess IT Solutions was the only repair shop open, Kevin started getting business outside of town as well. It was evident that word had been traveling around about him, and Kevin decided to use this word of mouth to better advertise his business.
Kevin had run Google ads in the past, but word of mouth actually made his repair shop famous in town.
"I ran maybe three Google ads before in my life. It didn't work at that point. So I believe word of mouth is the best. The best thing you can do is just be good to people, take care of them and do the right thing".
High-Quality Parts
Over his long journey in the repair industry, Kevin Marquess had the chance to come across several parts suppliers in the USA. Some turned out fine, while others could not provide him the right quality parts that could get the job done.
As Kevin's philosophy behind repairing was to provide high-quality parts in the first place, he set off to find suppliers that followed this ethos and was successful. Ultimately, it allowed him to avoid chargebacks and refunds.
"Why do the wrong thing? Why not just install the right thing and make everybody happy?"
Using a repair shop software and automated answering machine helped Kevin, but he knew he couldn't do it all himself. Eventually he would need employees who could not only help him manage everything, but also help him grow his business. As the situation eased, Kevin knew that he would now have a better chance to build his team.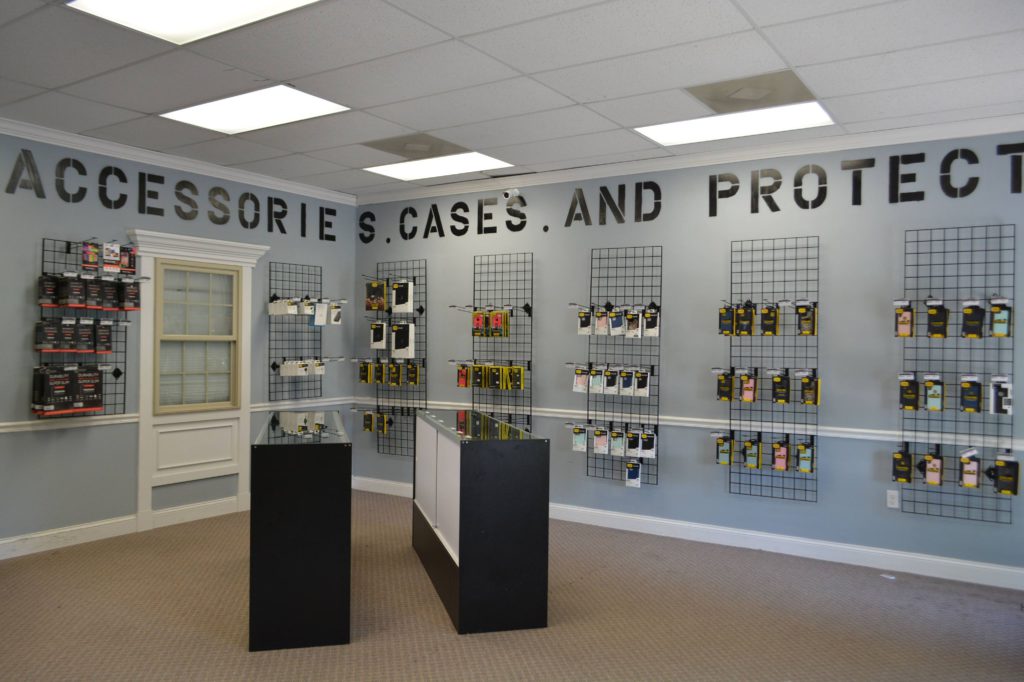 Team Building
After handling everything on his own and working extra hours to make ends meet for months, Kevin Marquess started posting ads to hire new people.
Once he had found a couple of promising new hires, things took a positive turn for Marquess IT Solutions. Currently, three people are working with the business, with Kevin as the microsolderer/manager and two techs.
Kevin finally had his team, his allies by his side. It was now the perfect time to unleash his secret project, his secret "idea" that he'd been mulling over in his mind for months – an idea so brilliant that had never been seen in the repair industry before.
Secret Video Recording Room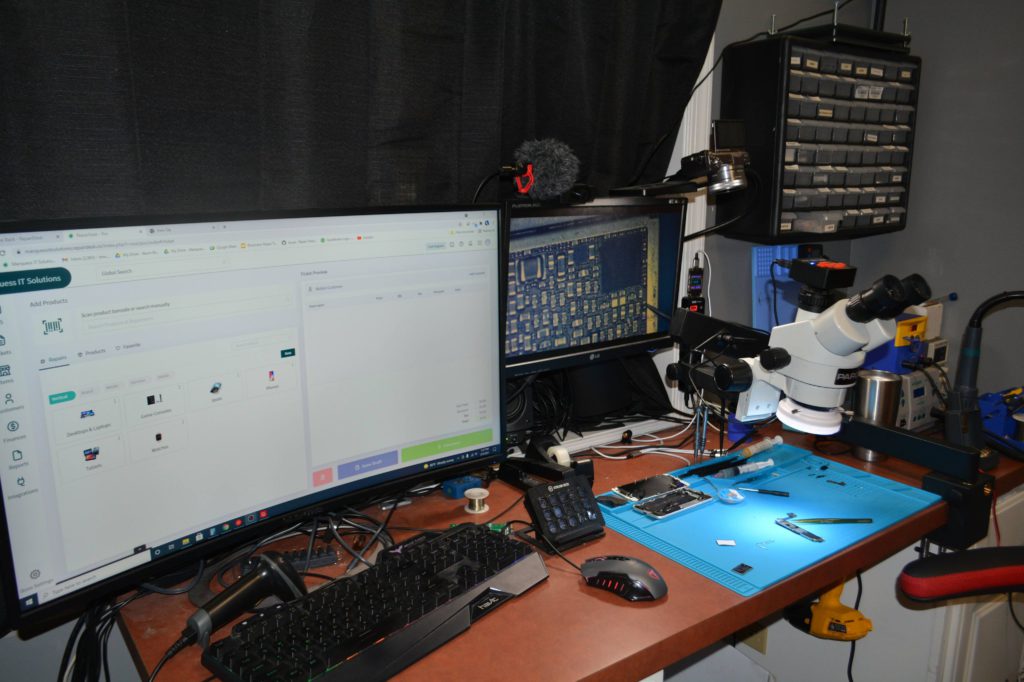 Kevin had realized that training was a very redundant process and could be sped up. Being an innovator, he came up with the unique idea of recording every repair. To that end, Kevin made a special recording room that was a $4,000 setup. Consisting of 4 cameras and two screens, this new room made recording repairs a piece of cake. The cinematic recording could be started with just one button, resulting in efficiency for both Kevin and his employees.
So, if he hired a new employee, Kevin wouldn't have to train them from scratch. The employee would have access to all existing repair videos and could learn while they repaired devices, thus saving training time. The employees could easily access it all from the Internal Wiki in the repair shop software present at the store.
Warranties For The Win
Marquess IT Solutions currently have an 80:20 split between the number of repair jobs that come in versus the number of device sales that happen at the store. This clearly shows that while repairing is a major part of their business, they also engage in selling devices to customers as an alternative revenue stream.
Kevin believes in providing a lifetime warranty on repairs and a one-year warranty on device sales. Despite financing companies giving only 30 to 90-day warranty periods, Kevin goes the extra mile and provides additional coverage to his customers.
This makes his warranty policy keep his loss rate low while simultaneously earning his customers' goodwill.
RepairDesk Bridging The Gap
Helping keep his business afloat during the pandemic, Kevin has grown to love three core features of our repair shop software and absolutely cannot operate without them.
Hassle-Free Inventory Management
The inventory management of our repair shop software has been a lifesaver for Kevin. Before RepairDesk, all repair parts were stored in drawers with small tags. As a result, it was difficult for him to keep track of stock and restock them on time.
But RepairDesk's inventory management features saved Kevin from those problems. Now, he has a dedicated room for inventory items. As a result, he can track inventory, order low-stock items beforehand, and avoid sending a customer back because parts are not available.
"This is like one of the best things. I loved it so much. I built a room just for inventory now because I see the importance of inventory. After all, that makes or breaks a sale. Whether you have that part today and you can help that person today or not".
Kevin believes that the ticket section has helped improve the transparency of his repair business. He and his team can look at the screen to see which repairs are going on and easily search for tickets.
It helps them keep track of all the devices that come in, note the time an employee is taking to repair a device, and keep track of the progress of every ticket.
"The repair time tracker was kind of cool. I think that that helped my employee realize that he was taking way too long. So this last time, once I switched the system over to require a repair time, his repair time went from 30 to 45 minutes to an hour down to 10, 12, 15 minutes".
Additionally, employees can quickly inform the customers when the device is repaired and ready for pick up, hence enabling them to manage his entire repair shop in just a few clicks.
Another feature that has been a total game-changer for Marquess IT Solutions is the point of sale. In just a few clicks, Kevin and his employees can create tickets and answer customer inquiries.
"It helps with our phone calls too. So if somebody calls and says, hey, how much is an iPhone 11. I clicked on the Apple iPhone 11. I've already found the price and am able to tell them instantly!. It's $2499″.
The Bigger Picture
The pandemic has been a rough ride for Kevin Marquess as he single-handedly dealt with all repair jobs. But with determination, innovation, and a lot of ambition, he managed to turn things around for Marquess IT Solutions. Kevin did not let his business drown. Instead, he worked extra hours and did everything on his own to continue pursuing his dream.
In the future, Kevin aims to:
Get more high-quality cameras for his secret video recording room.
Record repairs of all existing devices as well as new devices.
Develop a marketing strategy with the help of a third-party marketing company.
Open a new location within the next five years. And move out of Ocean City so that he can go back and forth between his existing and new location easily.
With his determination and love for repairs, Kevin is not very far away from achieving all these goals.