End-of-year holidays, including Christmas, have been a huge opportunity for businesses worldwide. Customers alone in the U.S. spent more than $700 billion on holiday-related purchases back in 2019. But now we have a very COVID Christmas. As the pandemic continues, many repair stores have altered their customer journeys and shifted to online stores to ensure safety and meet changing consumer preferences. But how will Christmas celebrations look this year? How can repair stores like you stay within the rules, but also give customers what they want?
Surprisingly, it's quite possible for repair businesses. It is just that, planning for Christmas 2020 requires a little smarter work to keep consumers happy and healthy.
Promote "Safety First" Repair Store Experience
To be "all in this thing together" means we must stay apart.
According to OSHA's (Occupational Safety and Health Administration) COVID guidelines, store owners need to follow a strict list of safety recommendations to operate safely. Whether it's Christmas Day or post-Christmas times, you need to keep the following rules in mind:
Provide hand sanitizers to every customer stepping into your store premises.

Encourage employees to stay at home if they're feeling sick.

Maintain regular cleaning protocols right after opening up in the morning.

Practice and enforce social distancing among customers.

Clean the counters thoroughly and train technicians to work in proper hygiene.

Make masks mandatory in your store.

Encourage workers to report safety breaches.
We won't gather this year so we can gather next year.
Allow Customers to Book Appointments Remotely
You might already be familiar with 'buy online, pick-up in store' (BOPIS) – sometimes referred to as "click and collect". Well, curbside pick-up works in a similar way. To keep the Christmas celebrations safe, some repair stores are planning to make curbside delivery their holiday secret weapon.
Also, encourage customers to place their repair orders on appointments only. Ideally, nobody wants to get sick right after the Christmas celebrations. For this, let customers use the Appointment Calendar widget powered by RepairDesk.
The appointment widget allows them to choose their device, its model, device problem and lets them instantly request a repair right from your repair store's website. Without any fear of public dealing, they can quickly get their jobs done sitting at their homes. Their repair orders will then be shown in your RepairDesk account so that you and your team can work on fulfilling them. 
Offer Secure Online Payments
Given the increased awareness around touching less stuff, customers are now opting for mobile payments more than ever. And more people are joining in on the trend: as reported by the Visa official website, 31 million Americans tapped a Visa contactless card in March 2020. The overall usage of contactless payments in the U.S. has grown by 150% since March 2019. So, how to be part of this rising trend for your repair orders?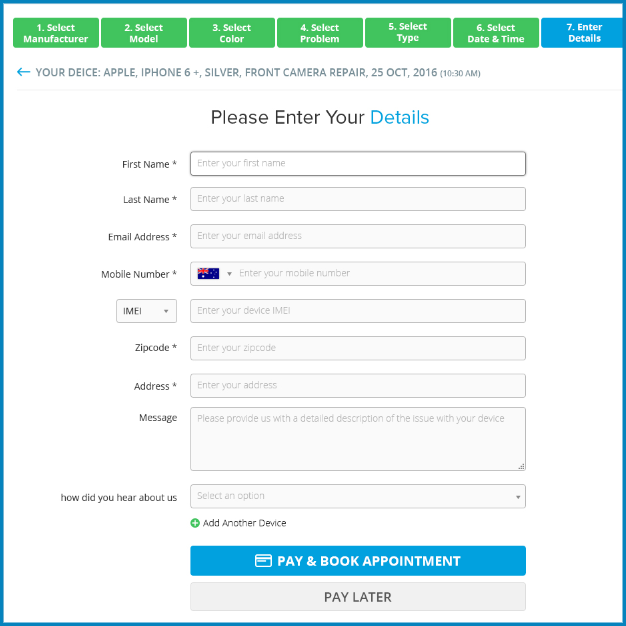 It's simple! If you are a repair store merchant in the U.S., try using RepairDesk Payments. The integration has numerous benefits, along with providing a 'PAY NOW' option to customers when they book an appointment from your website. Start using the integration today, and let your customers pay whenever and wherever they are.
Sign Up for a 14-day FREE Trial!
Go Paperless with Email Invoices 
To make more transactions without the fear of people gathering, go paperless. You can limit physical contact in-store by reducing the number of people who can enter your repair store.
To help repair store owners navigate through this challenge, RepairDesk provides the option to email customers' invoices with a "Pay Now" button. With this, they can see their order history, and they can pay you online. Now, say goodbye to disinfecting each note with a 99% alcohol spray and waiting for it to dry out.

Work on Your Online Presence 
Are you changing working hours for Christmas celebrations? Or maybe you're offering private, appointment-only experiences? Are you planning to give discounts to frontline workers? Well, your customers need to know about these things and need to find them in one place. Make sure your website reflects your holiday shopping plans.
Additionally, stay active on social media, so your customers know about an upcoming sale even if it's just a virtual flash sale, post on Instagram, Facebook, or Twitter to get the word out.
Implement Cashless Returns
As observed, the COVID Christmas transactions will be safer if processed cashless. Both customers and retailers are shifting to new ways of earning profits and offering a discount. Most useful of them are starting a Gift Card program, giving our Loyalty Points, and introducing Store Credits in place of cash refunds. Go cashless with RepairDesk's Enterprise Version with all the features your business needs to bring repeat customers.
Learn More About RepairDesk Enterprise!
Set Automatic Review Campaigns
Go for automated marketing campaigns before the Christmas sales start. Sift through the previous year's Christmas data and find out the most profiting customers. Make sure that they're informed about this COVID-19 holiday season and let them know your store's plans and safety regulations. That way, they'll be prepared to shop at your store before they arrive.
Use Signage for Advance Assistance
Signage in and around your store can make a big difference during Christmas. It can point customers to products they're after, help them safely navigate your store, keep them safe, and also show the precautions that you're taking with your stock.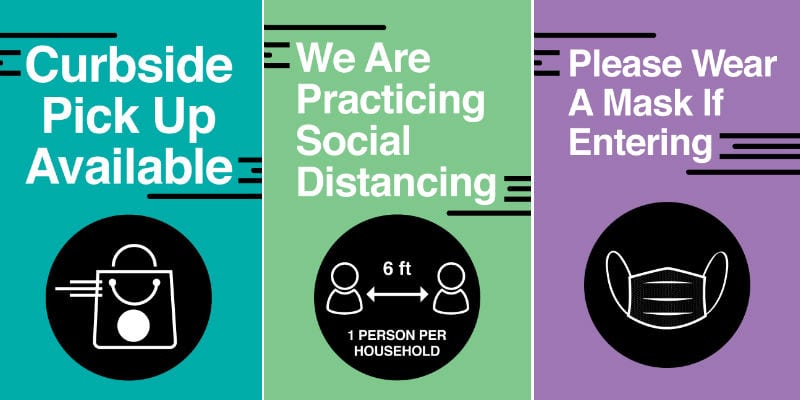 Christmas is a significant celebration of the year, and so many people do their shopping during this time. It's also the best time for businesses to boost their sales and end the year strong. With the unfortunate COVID-19 pandemic plaguing the world, it's best to stay safe and be careful. It also means that businesses will have to change how they operate to be in sync with today's climate. To help repair shops out, we've developed a guide.