Black Friday is the busiest time of the year for any retail store. It's the perfect opportunity for any business to make big sales and bring in a good amount of customers. With sales and special offers galore, and the holiday season beginning, it's a great time to turn a profit on the year.
For cellphone and computer repair shops all around, this could be the perfect opportunity to draw in customers. Since many are out looking for offers and special deals on Black Friday, you'll have more of a chance to strike gold. To help you out, we've created the ultimate Black Friday guide for repair shops that gives you all that you need to know.
Our Black Friday guide focuses on 6 key areas of business:
The RepairDesk Ultimate Black Friday Guide for Repair Shops
All of these aspects of your business are important if you want to have the best Black Friday sales possible. With that said, let's talk about our first key area – Marketing.
Part 1: Marketing
The importance of marketing for Black Friday
Black Friday is a day when every business posts the most lucrative offer it can to attract customers. Typically, everyone needs to get their shopping done for the holiday season, and Black Friday sits perfectly on the road to Christmas and end-of-year holidays.
The problem here is, unless you spread the word about the offerings that you have, no one is going to know. There are going to be a lot of offers out there, and you need to stand out and show people that you've got what they need. Black Friday season has people looking for the best deals, but they still need to know which deals are out there. That's why marketing your offers for Black Friday is key, so you can get the message out there to your potential customers.
When it comes to marketing a repair shop of any kind (computer, cell phone, etc.), you need to know what areas to cover. The main channels for marketing your deals would be
Paid
Organic
Referral
Email
Conventional (real-world)
1. Paid Marketing
Let's start off with paid marketing. This is usually the first thing that people think of when the term 'marketing' comes up. Paid marketing usually involves posting ads around or buying media. It's the kind of thing that people credit as 'advertising', and this is mostly because of its nature.
Paid marketing allows you to place information about your store online and use advertising space to put out your message. It's one of the most effective ways of getting eyes on yourself since ads are given prime real estate. With digital paid marketing, you can even set parameters on who sees your ad and how you track conversions. This helps you calculate how effective your ad campaign has been, and allows you to pivot your marketing efforts for greater efficacy.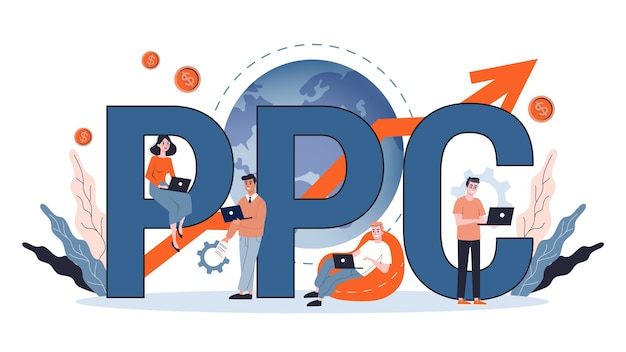 When it comes to paid marketing, you have multiple options depending on where your core audience lies. The most common platforms, however, are Google and Facebook due to the amount of usage they both see. Google posts ads on relevant searches to interested people, featured right at the top. Facebook posts sponsored content into its feed and across its other services like Instagram. Let's have a look at how both of them operate.
Google Ads
The Google Ads platform is the main hub for running paid marketing campaigns across all of Google's services. You can use it to position your ads in many different places, such as in search results, email pages, partner websites, etc. Unfortunately, due to Google's change of policies in 2017, you cannot place any ads with the word "repair" in them. The reason for this is because of many technical support scams that started taking place over the years. If you want to leverage the full power of Google Ads for your Black Friday sales, you're going to have to advertise the retail side of your business as opposed to the services side. In short, if you're selling any products, you can use Google Ads.
To place an ad effectively using Google, we're going to need to understand what kind of tools it provides us. Google lets you drive users to your offers by means of search ads and shopping ads. As mentioned before, search ads are displayed to a user when they search for a term relevant to your ad. For example, an ad for Best Buy can show up when someone searches for the term 'superstore near me'. These are marked with a giant 'Ad' symbol to make them stand out from regular search results.
Shopping Ads
Shopping ads work on the same principle but in a different manner. They show product images and prices when a user searches for a relevant term. Shopping ads are extremely helpful since they let you compete with other well-established brands in the same place, allowing you to tap into their pool of potential customers if your ad bid is high enough. However, keep in mind that the process of setting up a shopping ad in Google is not easy; you'll need a Google Merchant Center account, you'll have to comply with lots of regulations, and your ad can only go online after being reviewed by Google itself, which can take a few days. For these reasons, it might not be feasible to use the service if you're short on time.
Facebook Ads
While using Google can be cumbersome for your repair business, Facebook isn't as restrictive. Facebook ads offer a great way to touch base with your audience through social media. It allows you to display ads directly to people's feeds while they're going about their day. These types of ads are passive and can prove to be pretty helpful since they can easily reach the right people.
Ads on Facebook are displayed based on a user's previous activity, interests, pages liked, etc. It uses online interactions to display ads that fall in line with a person's activity. For businesses, this is a veritable gold mine, since their ads are going directly to the user with the most interest in them, making them more compelled to become a customer.
Facebook ads generally convert at a rate of 9-10 percent, making them great for acquiring new customers at a steady rate. It also helps that consumers are more likely to do business with a company that they have followed on Facebook, almost 50 percent. These factors couple in to make a great case for companies to run their ads on Facebook.
There is a huge pool of data on Facebook users that becomes accessible to companies when they advertise on it. Using the tools provided, you can target people based on demographics, interests, location, and even how they've interacted with other brands. Additionally, Facebook gives the option to display ads to custom audiences who interact with the platform in a certain way. For example, if a person has been searching for and interacting with a tech company, they might start seeing ads for the newest cellphones and computers in their feed. To a repair store, that is very useful indeed.
One of the really good things about Facebook is that it allows you to post many different types of ads. You can use a carousel of images, a slideshow, a video, or even any picture you've previously posted to your page. The Facebook Creative Hub allows you to design different ads first and see which one works for you before you pull the trigger. Similar to Google, Facebook also lets you run ads selling goods and services using the built-in marketplace feature. You've probably seen people selling items on Facebook that can be bought online. These posts can be turned into ads as well, letting you start doing business with your online audience easily.
Budget
When it comes to paying for Facebook ads, you can set a flexible budget for a set amount of days. Based on your budget, Facebook will let you know how many people will see your ad. The cost for your ad is usually decided on relevance, ad quality, the industry you're targeting, the location, time of year, call-to-action, etc. You'll also need to choose a bid strategy, which basically decides how you're going to be charged. Checking out the bid strategy guide and choosing the one that works for you is the best way to start rolling with Facebook ads.
2. Organic Marketing
Now that we've discussed paid marketing at length, let's get down to organic marketing. This form of digital marketing is what you would commonly see around the web when you don't spend any money. While paid marketing can get you lots of customers fast, you'll need to keep your ads running to sustain them. Organic marketing, on the other hand, brings a steady stream of customers over time based on the quality content that you put out.
To use organic marketing effectively, you need to have good, value-driven content put out consistently across the right channels. These could be social media updates, blog posts, guest articles, infographics, etc. The point of organic marketing is to give people content that they deem important and valuable and to use that as a funnel into your sales pipeline.
Repair shops can leverage several organic platforms to maximize their organic outreach. This can help push their marketing on a steady, consistent level to drive customers into stores. Since it isn't paid advertising, there are no hard policies restricting you from promoting your legitimate repair business. We've covered a few areas of organic marketing down below.
Social Media Marketing
Social media marketing or SMM is the use of social media platforms to promote your business. When talking about the content of organic marketing, it deals with the sort of activity you perform on various social media platforms. Doing things like posting images and videos of your business and products, updating statuses, interacting with other users and groups, building a community, etc. all factor into SMM.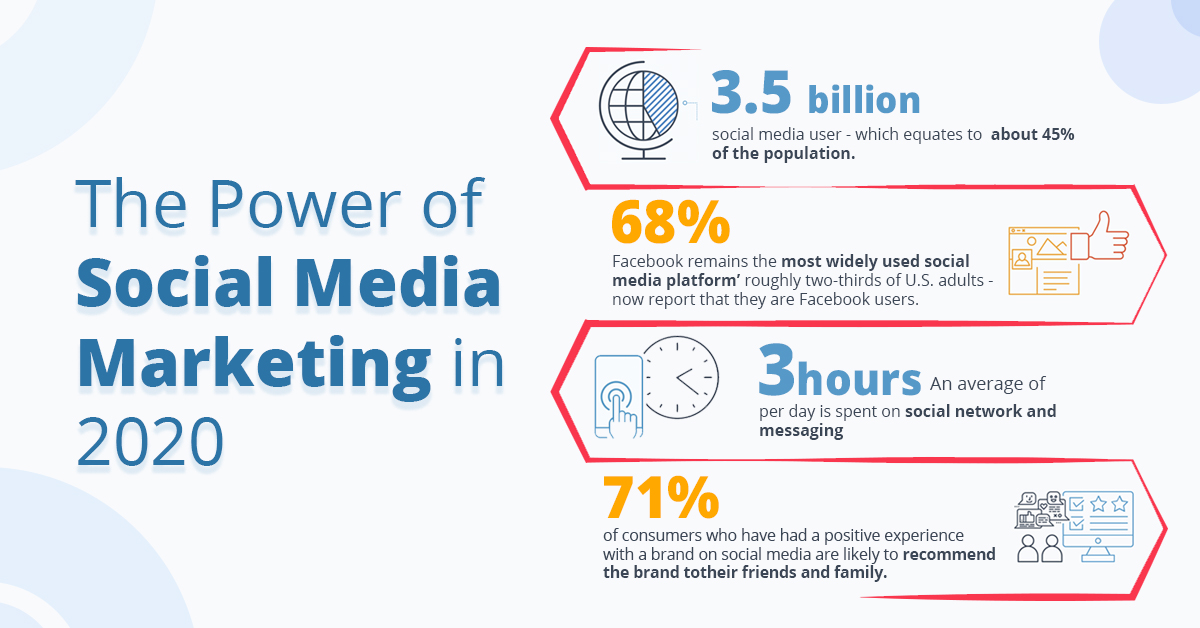 To be able to use SMM correctly, you'll need to be consistent with your content and put out something that catches people's attention. Using pictures and videos really helps, since it allows you to spread your message better, and is more prominently featured than simple text. One way of using SMM is to have a call-to-action (CTA) on a majority of the stuff that you put out. This CTA should be leading people back to your website, where you can convince them into a sale. For example, as a repair shop, you can lead them to a page where they can book an appointment with you. Don't overdo it, though; every post you put out shouldn't be trying to drag people away.
Another way to leverage SMM is to promote engagement and discussions. Choose to put up posts that are memes, or maybe ask a question from your followers. You could even include a poll that people can vote on, prompting them to engage with your content. This not only helps build brand awareness but also trust. Users will see you as a positive brand and will be more likely to engage with you, which in turn can lead to them becoming potential customers.
Website Content
While working on social media is a great time, it shouldn't be the be-all-end-all of your marketing efforts. Social media platforms are restrictive by nature, and may not allow you complete freedom to put up the content that you want. That's why it's necessary to have your own website loaded with content as well and to funnel people to it.
Your website is the place where you want people from social media and all over the web to come. However, in order for them to stay, or even visit in the first place, you need to have compelling content. This can be anything from image carousels, animations, landing pages, etc. The basic idea is that your website will be the hub for your customers to get in touch with you. And since you own it, you're free to put anything you want on it.
One of the most important pieces of content that we recommend would be your website banner. It's important for customers to get an at-a-glance view of what you have on your website. This is necessary because you want your Black Friday sales deals showing front and center. If your deals are placed on your website banner, you can easily grab the attention of customers and have them commit to a sale.
Website banners aren't hard to arrange. All you need is an image editing program like Photoshop, GIMP, Photopea, or Canva. All you have to do is create a design, put in some attractive assets, and finish it off with your offer in text. It's worth putting some effort into your website banner design since the better it is, the more chances that customers will want to buy what you're selling.
Google My Business
One of the most powerful tools that repair shops can use is Google My Business. This is a platform that lets businesses create and maintain a business profile to be used across multiple Google services. Having a Google My Business profile can really help you out in Google's system.
Once you've set up your profile, you'll have a number of options at your disposal. Here's what you'll be able to do at a glance.
List your business on Google Search
Pin your location on Google Maps
Display your Google My Business profile as a snippet
Post offers directly into Google Search
Gather reviews from customers
Apart from being useful for listing yourself on Google, the My Business platform really helps with local business searches. Basically, if anyone searches for something like "repair shop near me", your business will definitely show up.
If you want to learn more, Google has a great FAQ page for My Business.
3. Referral Marketing
The third major marketing category is referral marketing. This type of marketing usually entails promoting your products and services through word of mouth. Referral marketing relies on customers to spread the good word about you, so that you can, in turn, gain even more customers as a result.
When going for a referral marketing approach, you need to be squarely focused on the quality of service that you provide. Without it, people will not want to recommend you. If your repairs are top-notch and you offer your customers many benefits, you'll get a referral out of them no problem. To make your referrals successful, you might also need to incentivize your referrers. This can be done either through providing discounts, rewards, store credit, loyalty points, or something else of value.
With referral marketing, you're essentially turning your customers into "influencers" and are going "viral". You do however need to have some key ideas in mind when going for referral marketing. Ask yourself: who will be referring to your business and why? What type of people will they be referring to? How do I best find out where new referrals are coming from? How can I make them regular customers? These questions are important if you want to pull off a successful campaign.
For Black Friday, you can incorporate some special rewards for referrers. This will motivate them to refer your repair business to others, and since you already have your regular sales set up, those referrals will be more motivated to do business with you. If you play your cards right, referral marketing can really help you in your Black Friday sales.
4. Email Marketing
Now we come to one of the most popular mediums in business – email marketing. It might come as a surprise that people still use emails to market their business, but you'd be surprised at how effective it is. Estimates measure that for every $1 spent on email marketing, you can make about $42 in return.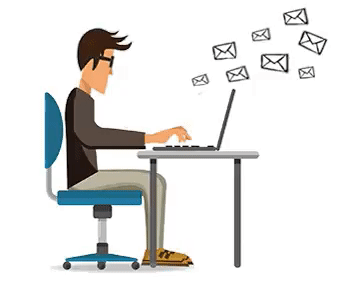 For email marketing to really pan out, you need to be on point with a couple of things. First, build a targeted mailing list of people you really know will be into your offer. Research on your audience, then build compelling email campaigns for them. Put in stuff that your audience likes, and focus less on what you want to show them. The point here is to capture their interest, and you can't really do that if you're not showing them what they want to see.
Once their interest is piqued, you'll need to direct them to one of your website pages. The page needs to be relevant, attractive, and simple. It's here that your audience will begin filtering into your sales funnel, so be sure to give it some serious time.
An important part of your email is the subject line and the copy. When people see your email in their inbox, your heading is the deciding factor into whether they will even open it or not. Be sure to come up with something creative, exciting, mysterious, and valuable. Customers love to be intrigued, so bring your A-game.
Know the tips and tricks to get your emails opened and read in no time.
5. Conventional Marketing
Even with all the advantages you get with digital marketing, it's never a bad idea to use conventional marketing methods for your repair shop. Using conventional means to spread the word about your Black Friday sales is always a great idea. You'll be able to actively market yourself in your neighborhood and can physically make your business stand out.
For conventional marketing methods, it's a great idea to put out flyers advertising your sales. Black Friday is a busy time for everyone, and you want to make sure you have their attention. Handing out flyers or posting them around will make sure people get to know about you. Designing a nice, good-looking flyer can be done using one of the many programs mentioned earlier. Once you have your flyer ready, have it printed and delivered around the neighborhood to gain the most coverage. Don't underestimate the effectiveness of this approach; not only is this approach pretty cost-effective, but it's also the best way to establish a real, personal connection with people. After all, no matter how good a brand really is, you can't do business with them if they physically aren't there.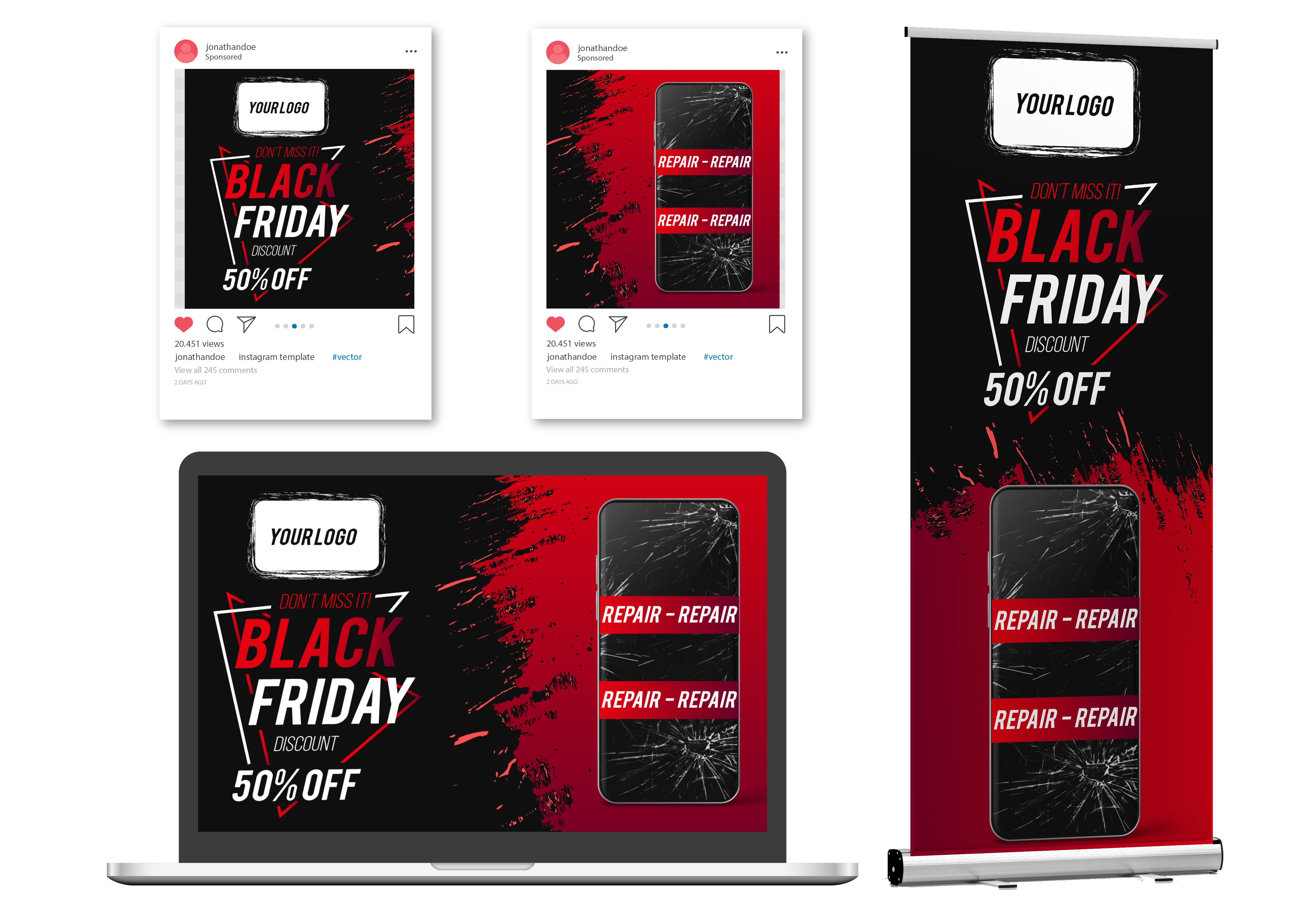 Similar to flyers, using flex posters and standees can do great for your store ambiance. Having a nice decorative standee right next to your door can help advertise your Black Friday sales as people walk by. This gives them the best chance to enter your store and check you out, maybe engaging you for a repair in the process. Remember, marketing IRL is the best way to make people interact with your repair store.
If you're a cellphone repair store looking to capitalize on Black Friday, we can help you with your social media activities. Just download our ultimate Black Friday Marketing Toolkit to have instant access to designs for social media posts, flyers, and a standee.
Get FREE Black Friday Marketing Toolkit now
---
Part 2: Presentation
Black Friday is all about what you offer to customers, and it isn't just in terms of deals. For any good business to succeed, it needs to be appealing to its core audience. That's where presentation comes in. This section will tell you all about how to master the way you present yourself on Black Friday and during the holidays.
A guide to managing Black Friday presentation
If you want to have customers to do business with on Black Friday weekend, you've got to make things attractive for them. Presentation is a key aspect of whether a customer will buy into your deals or not. According to a survey, 95% of people choose where to shop based on the store's external appearance. That means that if you tweak your store's aesthetics, you could see a dramatic increase in customers.
We'll be talking about two major fronts on which your overall ambiance should be based – online and real-world.
Online relates to the way your website is laid out, how you're promoting your offers there, and the sort of content you're putting out.
Real-world deals with physical collateral in your brick-and-mortar stores which help promote your Black Friday offerings.
Working on a combination of the two, you can create the perfect hook for customers to come to your store and do business. This guide will tackle each front individually so you can have a holistic outreach program that ties in with everything perfectly.
Mastering ambiance in the real world
Black Friday weekend marks the beginning of the holiday season, and customers always look for the best deals during it. Since they need to get their holiday shopping done, it's a great opportunity for businesses to make some strong sales. During this time, customers will be trying out new stores, buying things in excess, and generally create a healthier spending environment for retailers. To have these customers end up in your store, you need to know what attracts them, and how to best display it.
Understand your customer
Understanding your customers is the first step. Learn about what demographic they belong to, what are their interests, what they are more inclined by. Use this data to then shape the look of your store on Black Friday. If they belong to a certain gender, age group, or income bracket, you'll need to tailor your collateral to their preferences. For example, if people in your area tend to spring for iPhones, having that featured in your branding would definitely help. Senior citizens might not be excited about the latest Galaxy Note or Google Pixel phone, but Millennials like seeing offers for it. Keep that in mind.
Arrange your store smartly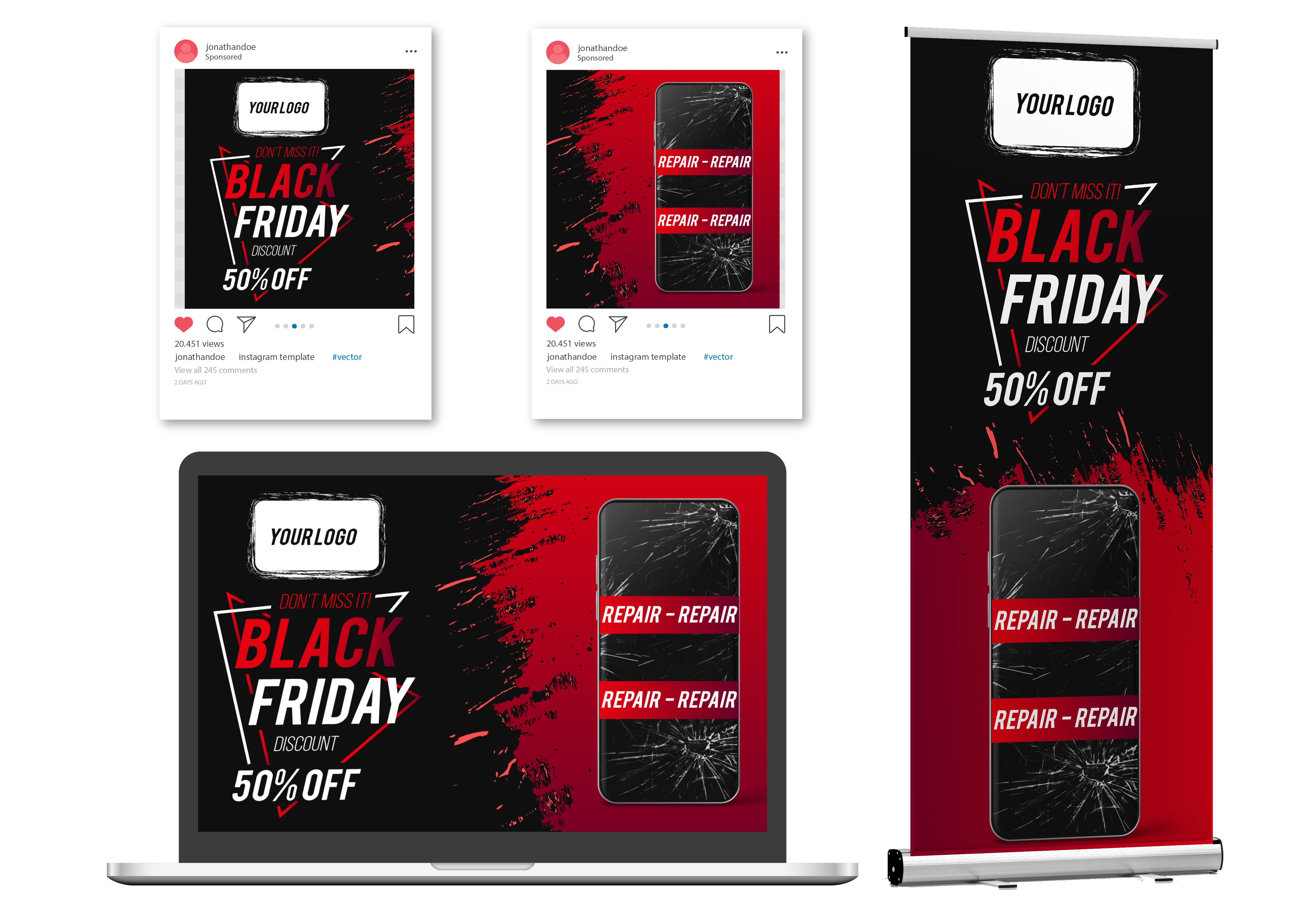 Once you have all your material created, you should put them in easy-to-view areas. Keep your major offers front and center. Use the spaces in your store smartly to display the offers you know will be hits. Your store windows or entrance areas are great for this purpose. One great idea is to stack your hottest-selling items around the store, and also keep them nearby so your staff can easily refill shelves. This serves to reinforce your big-ticket items, motivating customers to go for it with a little push.
If you're looking for material to put in your store, we've got a great design for a flex standee along with a bunch of other perks in our Black Friday Marketing Toolkit. You'll get instant access to social media posts, website banners, and a standee design that you can edit in Photoshop or any other program. Best of all, it's completely FREE!
Check it out now.
Get FREE Black Friday Marketing Toolkit now
Mark your discounted items
If your customers are walking around the store looking at items in displays, then marking items on sale will help. Display signage and add stickers to items that are discounted, so they can easily identify them. It would also help to make them more easily identifiable by grouping them together or creating a separate display or bin for them. Customers love convenience, so you should give them more of it.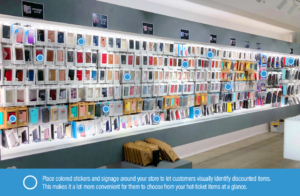 Set the mood with music and videos
Music can really help set the mood for customers that walk into your domain. Prepare a holiday music playlist that you can have running at your repair shop throughout the day. The music should be in tune with the shopping experience you want your customers to have. To make customers feel a sense of urgency, put in tracks that are faster and more lively. If you want your customers to take their time shopping around, consider putting in slow, somber mood music. Your music shouldn't be loud enough that it becomes annoying. It's there to lightly suggest, not completely dominate.
To make your customers' experience more interactive, you can put a video up next to the products you're selling. This creates a hotspot in your store where customers will stop for a while and check out your offerings. You can put the marketing video for the latest Windows Surface computer, for example, or the new iPhone's specs. Visual information is retained a lot more by customers, so be sure to use that to your advantage.
Accessorize your staff members
Finally, we'd recommend decking out your staff with accessories to help with sales. Have them wear t-shirts, caps, or badges that promote offers around your store. They can even carry flyers around that have offers listed down for easier reading. Preparing your staff for Black Friday sales also means that they're prepared to deal with people's queries. Make sure they know what offers are on sale and how to get the best value. Customer service ties into your overall presentation as well, but we'll be talking about that another time. *wink wink*
Keeping your digital storefront on-point
Now that we've discussed the experiences inside your store physically, it's time to talk about what you can do for people who are online instead. Your online presence matters a lot, especially with the way digital platforms have evolved (and also of because COVID-19). If you want to be able to make the best of the holiday sales, then make sure you have your online storefront on-point. Here's a couple of things to consider.
Make sure your website is ready
Your website is the most critical part of the digital equation. It needs to be appealing, responsive, and most important of all, super fast. Make sure that its speed is taken care of, and you don't have any loading issues. Research shows that more than 50% of visitors will leave a website if it doesn't load in under 3 seconds. So it's definitely important to have it running smoothly.
Have your website administrator optimize your site and keep it running steady under heavy loads. Tools like Google's PageSpeed Insights and GTmetrix can help you pin down the improvements you can make to your website speed. Use the suggestions they provide to optimize your website and have it load faster. Remember to test thoroughly when making any changes, and always keep a backup of your work before you start modifying things.
Don't forget that your traffic will also be coming in from mobile devices. Keep your website optimized for them by making sure it is responsive (i.e. mobile-friendly), and doesn't chug while loading on phones.
Update your website design and catalog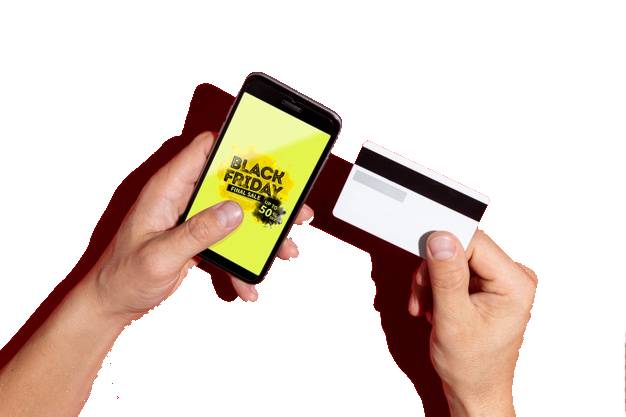 Getting your website ready for Black Friday also means you'll need to update prices, descriptions, and add new bundles to your catalog. Use new images that are tagged with your special offers and post them around your website. Have customers click on them to be taken directly to your special offers, so they can check out faster.
For item descriptions, you'll want to use marketing-centric words that have a lot of pull. Words like "AI-powered", "high refresh rate", "OLED display" and "5G" can be pretty powerful when drawing in a certain crowd. It also helps that search engines will be able to rank the page based on these keywords.
Finally, make sure your SEO is up to the mark on your website. Filling in product descriptions, giving pages unique titles, adding images, and giving each image alt-text is necessary. Remember, you're going to want to play by a search engine's rules if you want people to search for you.
---
Part 3: Offerings
Our next area of focus is the sort of offerings and promotions you're running. Black Friday is a time for people to get major sales under their belt. The way they manage that is by designing a bunch of solid deals that customers are attracted to. In this section, you'll learn all that goes into making a great deal that your customers would want.
What makes a great offering?
For Black Friday, you want to have the best deals around that will draw customers in. Naturally, that means you'll have to incentivize them with whatever you're offering. This could be through flat discounts, added services, special offers, etc. What's important to understand here is what customers are motivated by.
In a survey conducted in 2018, around two-thirds of customers stated that they "made a purchase they weren't originally planning to make solely based on finding a coupon or discount." That's a pretty significant amount. The reason for such a huge lean on discounts is that for first-time buyers, paying for something at full price without any previous experience or peer reviews is risky. However, when faced with a discount, those same buyers view it as a way to mitigate that risk and end up pulling the trigger.
The question that you need to answer is, 'Is it worth their while?'
This means adding value to your offerings and seeing if it's worthwhile. To help you chalk out the best ways to entice people to your repair shop this Black Friday, we've got some tips that will help you out.
Create a Black Friday Holiday Gift Guide
Holidays generally have a lot of deals going around, and some of them might not even reach the notice of your customers. So what do you do? It's simple, really – create a gift guide that puts all your deals on the map.
Holiday gift guides have been around for decades, and they do a great job of promoting which items and bundles are on sale. You may remember the old Sears catalogs from back in the day. Well, this is just like that, in concept. A holiday gift guide will give primetime to the items that you'd like to promote for your Black Friday sale. You can list down what is included when they buy it, what benefit they can have from the sale, and decorate it with some stylish imagery and captions. With a holiday gift guide, you'll be able to get the message out quickly and succinctly to potential customers.
Constructing a gift guide isn't all that difficult either. You can put in any of the top-selling items and services your repair shop offers, add a couple that you'd like to promote, bundle things together, and tie it all up with a nice discount plan that seals the deal. With the right repair shop software, you'll be able to have all of that done for you without breaking a sweat.
Once you've drafted up a guide, share it across the internet on social media channels, websites, and practically anywhere you can put it.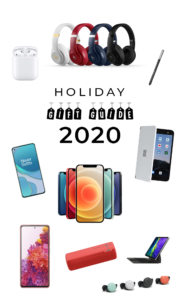 Best of all, once you have the template ready, you can recycle it next year with a few adjustments.
Offer Rewards on Referrals
Referrals are a great way to get customers into your store and use them to signal-boost your business. Offering customers a reward when they refer others to your repair shop is great for generating business even long after Black Friday comes to an end. Not only will this guarantee you a bump in sales, but also a steady stream of customers year-round.
Referrals can be structured in conjunction with your Black Friday deals. Offer something extra as part of the referral program, such as a discount, a free item, or loyalty points. With this sort of scheme, you'll have new customers coming in, and old customers revisiting your business for their rewards. It's a win-win situation that you should definitely check out.
If you haven't already, we'd highly recommend setting up a referral program at your store.
Introduce Black Friday Flash Sale
This one's a little tricky to work it. Thanks to online e-commerce websites, flash sales have become a great way to have customers do business with you. A flash sale usually offers items at discounts for a very limited amount of time. It could be anything from a couple of hours to a day, but the point should be that it will go away soon.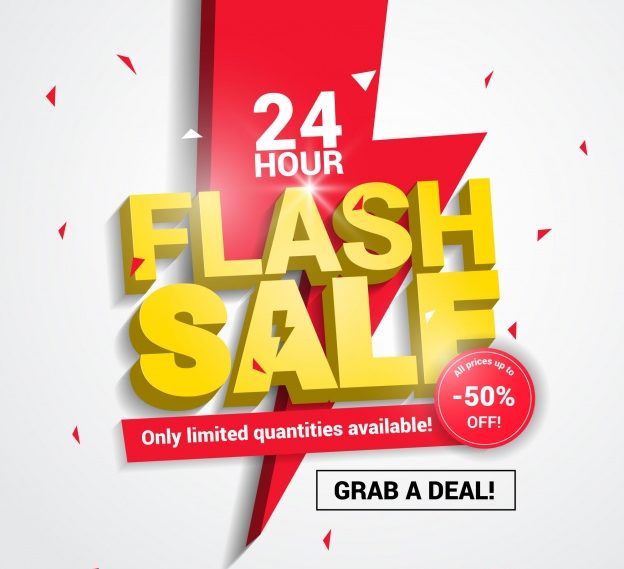 Flash sales motivate customers by inducing FOMO, or the 'fear of missing out'. This makes them more susceptible to buying items that they were probably on the fence about, or ones that were not on their list, simply because the offer will soon go away. Think of it as the impulse buy that many brick-and-mortar retailers set up, only with a time limit.
To set up a flash sale, you need to make sure that you have a place to host it, and that your customers can find it easily before time is up. This means that you'll need to push your marketing into overdrive. Post on social media, send out emails, have partners signal-boost your message. Do whatever it takes to run those promotions and reach as many people as you can before time is up. If you play your cards right, you might have more sales than you can even handle.
Set up Rewards for a Minimum Spending Amount
This one should be pretty easy to do. When customers come into your store, let them know that if their total bill reaches a certain amount, they're entitled to a reward from you. You can offer them something like a free service, an accessory item, a discount coupon, or if it's an online store, free shipping of products. These sorts of tactics can help you project your revenue from Black Friday sales. If customers can get rewards for a minimum spending amount, then there is a high degree of chance that they will spend that much.
A clever way to expand on this idea is to create reward tiers. The more a customer spends, the more rewards they get. This approach makes your rewards plan a lot more flexible, offering incentives to spenders of all categories. With a rewards structure set up in this manner, you can set a very clear goal for total sales revenue and actively achieve it, too.
Create Product Bundles or Mystery Boxes
When it comes to Black Friday, the more things you get, the better. That's why people will often prefer deals that package multiple items into one. These product bundles usually come up in the form of an item and an accessory. For instance, if someone buys a phone from your repair shop, they can get a screen protector with it, or a case, or a power bank. Tying items together in a bundle makes it more attractive to customers since the price is usually going to be discounted.
To really up the ante, you can create mystery boxes for sale. These are packages that are bundled together for a set amount, only no one knows what's inside them. You can create multiple mystery boxes and set a flat price for all of them. For an added bonus, you can pack in a special item into one of the boxes, like a $100 gift voucher or a Google Pixel 4a, and advertise it so people are more tempted to buy. Offer a little surprise with your Black Friday deals, and customers will want to visit your store more often to see if they've scored big.
---
Part 4: Customer Service
Now, one of the most important things to take care of during the holiday season is your customer service. Black Friday is often a very troublesome time for staff members. There's lots of activity going on, stress runs high, and customers will continue to demand good service. To give a great customer service experience during this time is a daunting task, but our guide helps with that as well.
The Customer Service Experience
Customer service is a critical part of the shopping experience. It deals with the interaction that the customer has with a particular business's representatives, and it weighs heavily on retention. According to a study, around 70% of customers are willing to support a business if they deliver great customer service. So, you can imagine how vital it is for the success of any retail store.
The essence of good customer service boils down to politeness, knowledge, and service insight. If your attendant at a shop has a pleasant attitude and helps you out, you'd naturally want to visit their store again just to interact with them. The opposite works as well – get bad customer service, and you're never going to want to go there willingly again.
The main thing that we learn from this is, good customer service gets you the money. People are willing to pay more for a better customer experience, and that makes it important to have a strong presence on Black Friday. To give your customers the best experience possible, you'll simply need to keep a couple of important things in mind when dealing with them. Let's have a look at what they are.
Assemble your team
The first thing on your list should be to do is to assemble the right team for the job. The people working at your repair shop need to be put in the right position and given the right directions. Who is going to man the counter, who takes care of the inventory, who is going to be the attendant? Get these roles squared away right at the beginning.
Every staff member brings something unique to the table and has their own expertise. Using their collective knowledge, you can assemble a great team to manage all your customers on Black Friday. Make sure that they're all well aware of the tasks at hand, the products and services offered, and the procedures to follow.
Resolve issues before they even begin
There are so many things that can go wrong come Black Friday. Items may run out, service may be slow, systems may go down, and customers may even walk in disgruntled in the first place. To give your customers the best service, you're going to have to foresee these problems and work on a plan to fix them.
Here, it's a great idea to draw from your previous experiences. Try to recall what sort of issues you had last time, and work on taking care of them in 2020. Make provisions in advance, so you don't have to deal with messy situations on the day of. It would also be a great idea to play different scenarios in your head, so you can mentally prepare for any unforeseeable circumstance.
Remember, always have a Plan B!
Plan for rush hour

What happens when your store gets flooded with customers on Black Friday? That's a question that you need to think on and prepare the answer for. Rush hour is inevitable even if you don't believe your repair shop sees much business, and you need to be ready for it.
If you have RepairDesk, you can get the information about your rush hour with an intelligent KPI dashboard. Go, check it out.
And when you get the idea of your rush hour, be sure to create protocols for when there are way too many customers to handle. Fast checkouts will need to be a priority since people who are all ready for checkout will want to be processed quickly. Reassign some of your team members so that they can help customers make their selection if they're looking for an item, or check out if they need quick service. Having an iPad POS would definitely help in this regard since they're portable and can checkout customers remotely.
Implementing a token system for checkouts can help as well since it will streamline the experience for everyone. Just remember to give the customers what they want, and you're golden.
Give customers the best treatment

They say "customer is king", and treating them as one on Black Friday is going to be important. As we've mentioned earlier, customers like polite, helpful staff members, and having your team serve them pleasantly will go a long way.
Make sure that every employee knows how to please their customers. Have them smile and call customers by their names (first or last). Let them know that customers need VIP treatment, and giving them good service is going to be great. Lastly, using pleasantries can really leave a great lasting impression. Saying "Thank You" with a smile can prove to be a really powerful tool to impress customers, so don't take it lightly. The more courteous you are, the better your case is served.
Have fun
This may seem like odd advice, but always remember to have fun. Black Friday can be a stressful time for staff members since customers are so demanding. But if you have fun doing work and bring a little holiday joy into it, you'll be all the better for it. Enjoying the time cuts through the tension and really brings you into your element, and that's exactly how you want to serve your customers.
Make sure your employees are having fun. Crack jokes, play good music, have running bets, and bring some camaraderie into the mix. You'll end up boosting your team's morale, and have them serve customers with a smile naturally. Remember that your team members are people as well, and they need good service too, so be sure to give it to them. And remember to keep it lighthearted for yourself as well.
Use Black Friday to give your best customer service experience
The holidays are all about giving, and the best gift you can give to your customers is stellar service. Black Friday is a chance to brush up on your skills and leave a good mark on people. You can use this opportunity to make lifelong customers with a focus on good customer service. It's a great way to get the word out that your store takes care of its customers, so use it to its fullest advantage. Your repair shop's customer service experience should absolutely be considered the best.
---
Part 5: Delivery & Expectations
Expectations on Black Friday have changed considerably, and meeting them is a challenge every time. With more mail-in orders being prevalent in today's world, you'll have to figure out the best delivery method for your customers. While the task may seem arduous, there are ways in which you can fulfill those requests.
Here, we'll be breaking down the different ways in which your customers can do business with you and receive the products or services they paid for. Additionally, we'll also be looking at the sort of expectations that they have, so you can take care of them and make customers for life.
The Black Friday Change-Up
One of the major troubles for shoppers on Black Friday is getting the deals that they want in time. Going to the store and waiting in line is not fun for anyone, and let's not even talk about the mad dash afterward. Instead of clamoring over other people to get the items that you want, you'll have to make do with sitting at home instead.
But that's not all a bad thing. In the US alone, consumers are expected to spend more than 43.3% this holiday season online. That means more people will be getting their Black Friday deals from the comfort of their couches, and it's the store owners who have to figure out a way to deliver to them. Online digital platforms are popping up more in 2020, providing a convenient way for people to receive what they ordered.
Naturally, it would be a good idea to go the way of e-commerce and offer things online. It is the popular choice right now, with 62% of people shopping more online than before the pandemic. But how to go about it and ensure that items get delivered to your customers? That's what this guide will help you with.
Keeping deliveries on-point
To have your sales run successfully on Black Friday, you need to create the perfect delivery mechanism. Orders need to get ready, get sorted, get sent off, and get delivered to customers. That's part of the essential building blocks of an e-commerce (or any online) business. Getting everything pinned down and on-point requires you to consider a number of smaller things that come into play.
Select a delivery medium
The first question you need answering is, who is going to deliver your goods? You're naturally going to have to contract a courier service to get the items from your store to your customers. Here, it would be wise to do your research and look at the different options out there that you can offer.
In many cases, local post can take care of the job in an inexpensive way. The postal service is a reliable source of delivery for many businesses to people, and sending goods through them generally gets the job done, though it does take a fair bit of time.
If you want a faster shipping option, then be prepared to have your customers pay a premium for it. Services like DHL, FedEx, UPS, and others will get your deliveries to customers in record time but are costly. The best way to mitigate these costs is to pass them on to the consumer since not everyone will be willing to pay astronomical shipping charges for every little thing. However, be sure to add it only as an option that they can go for. It allows for greater flexibility for your customers on how they want their package to arrive and increases goodwill.
To figure out what the best rate is for your deliveries, you can compare prices online and make a reasonable decision on what you want to go with.
Keep labels prepared
Black Friday sales usually have people purchasing items in droves. Oftentimes, stores are overwhelmed with the orders, and their delivery process slows down because of it.
To save time, it's a great idea to have your labels printed and ready beforehand so that you can easily make good on deliveries. Labels will allow you to scan the items sold into your POS system and will make deliveries easier. Getting an adequate amount of labels and printing them to manage your inventory is a smart idea. It also helps the delivery crew in identifying packages. Plus, the extra time you save from printing and labeling parcels at run-time means you can focus more on your business.
Mind the weight
A major factor to consider when shipping items is the amount of weight it carries. Every delivery service charges extra if a package exceeds a certain weight. Your prices will climb astronomically if you send out big, bulky packages that require extra space. Therefore, it's always a smart idea to pack light and keep your overall weight down to a minimum.
For cellphone repair shops, this might not be an issue, since the weight is generally manageable. However, if you're running a computer repair shop, you might want to keep an eye out for weight. Most components and systems are hefty and carry a lot of weight, making it all the more troublesome and costly for you.
Keep packaging protected
Anything that you send through a courier service is liable to damage or wear-and-tear. Therefore, it would serve you best if you took extra precautions to keep items protected while they're on their way to your customer.
Using bubble wrap, air cushions and Styrofoam in your packaging keeps them safe while they are on their way. These packaging safeguards also help keep costs low and products safe while they're on their merry journey.
Subsidize your shipping
There's nothing people love more on Black Friday than a good deal! That's why it's a good idea to give them the best value that you can. Shipping is one area where they will be expected to pony up, but if you can sweeten the deal for them, you've got yourself a customer.
Offering special discounts on shipping will go a long way to help retain customers and make more sales. Since you're going to be selling more units and handling more repairs, you can afford to cut down on shipping costs. This gives customers extra incentive to turn to you for their needs and spend more during the holidays. Additionally, it gives you a competitive edge over other repair shops that don't offer shipping discounts.
Make sure it's safe
The last thing you want is for your delivery to be the cause of a disease vector. It's going to be extremely bad for business, that's for sure! To avoid such a catastrophe, make sure to cover all your bases before sending off items for delivery to your customers.
Take the time to disinfect all items and go through the necessary precautions when packaging. Find out what safety measures your delivery company will be taking to ensure that the spread of coronavirus remains in check. Most deliveries made nowadays are contactless, so it's a good idea to have someone who offers that and takes care of disinfecting the package for you as well. Better to be safe than sorry.
---
Reviews & Feedback
Perhaps the most important piece of advice you can get comes directly from your customers. Feedback is an integral part of most businesses today, and yours is no different. For repair shops, getting a positive review, a good rating, and some solid feedback from customers can help quite a lot. It lets you know what areas of your business work, and which ones could do better. For Black Friday, be sure to follow these guidelines to get the best feedback from your customers.
The importance of reviews
In the modern age, consumers rely on trusted reviews on practically everything. Food, TV shows, products, apps – you name it. If you want to get good business, you need to have good reviews. In fact, almost 90% of people only pay for items based on online reviews. Surprisingly, even negative reviews have shown to help sales out by making people aware of the product.
So there's no doubt that reviews are really important. They help people gauge how good a product, service, or business is for their needs by providing them relevant information from other users. Sometimes, this can be the winning formula for businesses. Getting a good review score means getting more customers.
There are many platforms now that support a rating and reviews system to highlight important listings. Your first priority should be getting reviews on Google through your Google My Business listing. These will help make you stand out when anyone searches for you online, with a neat little sidebar showing reviews and more information. Other popular platforms with a rating system include Yelp, Bing Places, Facebook, and the Better Business Bureau (US only). As a growing repair shop, you should definitely list yourself on these platforms and start collecting reviews on them.
How to collect feedback
Now that we've established how necessary reviews are for businesses, it's time to see how we can collect them. Reviews and general feedback is usually collected after a customer has engaged with your business. Once they purchase an item or service, you can collect a review from them. There are a number of ways to collect feedback, which we should go over in this section.
Drop into their mailbox

The easiest way for you to collect a review is to ask for it. As a repair shop, you're going to note down the contact details for your customer. Whether it's their phone number or email address, you can use it to let them know about their repairs and promote your business.
The best strategy would be to send your customer an email after they have done business with you. You can ask how their experience was, and lead it into a link taking them to your review page. Questions you can ask them should be framed along the following lines.
How did they like the Black Friday deal that was offered to them?
How was their shopping experience with you?
Would they recommend your business to a friend or family member?
In what ways can your business improve, according to them?
Customers like to feel important and letting them know their feedback is valuable adds to the customer experience. You can use your POS software to automatically send personalized emails and follow-up messages to these customers. Since you have plenty to do around the store on Black Friday, automating emails is the best way to go.
Guide them to a feedback section online
When a customer pays for something online, you should have a section dedicated to collecting feedback from them. This can be pretty free-form, from having a comments section on your website right at checkout, or providing a link to it when you email them their invoice. Having a space reserved for collecting reviews will add consistency to your branding, and ensure that you collect them from your audience.
The golden rule here is to make it as simple and easy as possible for them. If they have to jump through hoops, then they won't give you the reviews that you need. Wherever you want your reviews to go, you must place clear and concise links. Usually, a button titled "Write a review" would be great. You can also have the option to leave reviews on multiple platforms, so customers can choose their preferred one. Just make sure you don't clutter it up, or confuse them.
Offer rewards for their effort
Of course, nothing really comes for free. If you want your customers to be more willing to leave reviews, you need to incentivize them. Let them know how they can benefit from dropping a review or rating for your store, and motivate them. Think of it as rewarding a customer for their time, and securing a future sale at the same time.
Offering rewards for reviews often leaves a positive image of your business. Customers would be more willing to shop with you if they know that you'll be rewarding them for things. However, you need to be careful that you don't come off as buying your way into good reviews. That is highly unethical and leaves a bad mark on your reputation. We recommend offering small discounts or coupons that customers can use on their next purchase. You could also run a giveaway campaign for customers who have left reviews within a certain timeframe. This motivates more people to send a review your way and give you valuable feedback.
What to do with reviews and feedback
Collecting reviews and getting great feedback from customers really helps promote your business. However, don't simply rely on getting feedback for feedback's sake – make good use of it. There's a lot you can do with the reviews that come in to really amp up your Black Friday sales.
Share reviews on social media
A popular strategy is to share positive reviews on social media to attract more customers. This helps with keeping your branding on-point, motivating customers to check you out that previously hadn't. You can do this by taking a screenshot of your good reviews, and either posting them as-is or creating an attractive image out of it.
Many online tools like Canva or Photopea can help you design a really good post. You can then use these posts on your pages as a way to boost your social profile. Many apps like Instagram also allow text posts to be created, so you can create posts that way as well. Once these posts are up, customers can use them in the future as validity for your business's authenticity and reputation. If they're convinced, they'll go for the same offers and deals, netting you more sales.
If you're a cellphone repair store that wants to attract customers this Black Friday, you should check out our Black Friday Marketing Toolkit. It's got a set of social media posts, designs for a flex standee, and a website banner that you can use. Best of all, it's absolutely FREE. Hit the download link below and get access to it right now.
Get FREE Black Friday Marketing Toolkit now
Tweak your offerings according to feedback
While getting positive feedback is a great thing online, you may run into instances where the reviews you got were not so good. In these cases, it's best to look into the matter and work on improving things.
For starters, if a negative review comes in, don't panic! Remember that 68% of consumers trust reviews of a business more when there is both positive and negative feedback. Some services like Google and Yelp don't even allow you to remove negative reviews, so you may as well stick with them. The best course of action is to learn and understand why a customer was displeased, and work to fix the issue.
The negative feedback is actually a blessing in disguise since it lets you show how committed you are to your customer. If you're able to tweak the offerings your customer was unhappy with and communicate to them in a positive manner, it can really help your business out. You may turn a once unhappy customer into a fiercely loyal one. Moreover, positive resolutions to negative feedback can also garner you new followers. Showing positive customer service in the face of such feedback will have long-lasting benefits for you, so be sure to work on it.
Final Words
And with that, our Ultimate Black Friday Guide for Repair Shops comes to a close. We've discussed many important things in this series, from how to leverage the digital space to what kind of deals to provide, and how to best tackle customer service. Be sure to check out our other articles in this series to get the complete low-down.
Black Friday is a major celebration of the year, and so many people do their shopping during this time. It's also the best time for businesses to boost their sales and end the year strong. With the unfortunate COVID-19 pandemic plaguing the world, it's best to stay safe and be careful. It also means that businesses will have to change how they operate to be in sync with today's climate. To help repair shops out, we developed this guide, and hope that it proved helpful to you.
If you'd like to do some savings yourself, check out our Black Friday offer on the RepairDesk Retail Toolkit. You'll be getting a bunch of great hardware and software in one convenient package, saving big this holiday season. It's the perfect time to get it and start your repair journey.