Nightmares are scary, right? Now ponder over the thought that half of your repair shop employees quit because of a commission plan that is designed poorly.
Amidst all this, you can be sure of the fact that you'll feel resentment for not setting up a good commission policy in the first place. Needless to say, you'll have to start hiring employees and train them again. And you find yourself back to square one, reliving the long and tiring process.
However, let's come back to the present scenario.
Place a good commission policy in your repair ticket management software to stop this above-mentioned nightmare from turning into a reality.
What Are Commissions?
People belonging to the sales sector are very much familiar with the concept of commissions. This is an essential factor in helping employees reach higher monetary figures, apart from the base salary, by hitting a predetermined target number. It is also a common way to retain qualified employees, which can be monitored for calculating the sale of a product or service. And commissions are mostly calculated as a percentage of the sale of a service or product.
Basically, the idea is to make an additional incentive for your employees, so they can maximize their efforts in their work. For instance, your employee can get a 5% commission for a particular device sale. This very option will encourage the employee to invest their efforts more efficiently and diligently.
However, we also understand that calculating the employees' commissions separately can be a huge hassle. But, lucky for you, Repair Desk offers a comprehensive commission calculating setup.
Sign Up for a 14-day FREE Trial!
How Do RepairDesk Commission Works?
The manual method of calculating employee commission is tedious, time-taking and can result in erroneous errors. So, our repair ticket software allows repair shops to calculate commissions automatically. You can calculate commissions in the following ways:
1. Employee Wise Commission
The employee-wise commission trigger enables you to set differing commission percentages on each category for every employee. For example, this method allows you to set tier-wise commission percentages for your techs, managers, salesperson, receptionist, etc.
For instance, Josh is a salesperson at your repair store. You can set his commission percentage on all categories, such as 30% on repairs, 15% on unlocking, etc. In addition to this, you also have the option of not setting a commission on a particular category. Thus, allowing you to pay more commissions on high priority items and less on low priority items.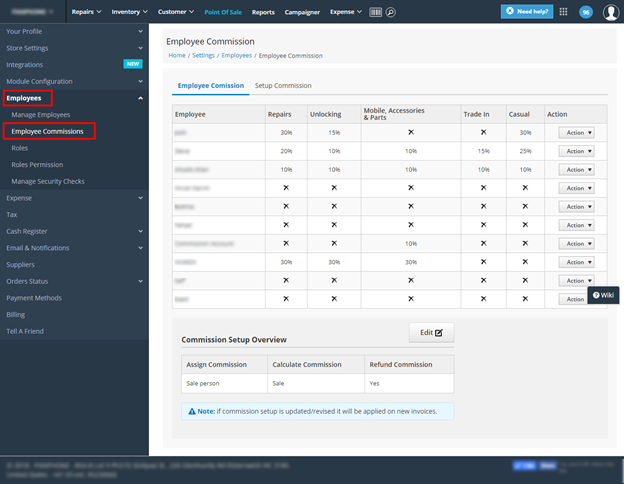 2. Product Categories Wise
Another option is to set commissions' product categories wise in your repair ticket management software. In this way, you can set a more significant percentage of commission on product categories that are not selling well. The high percentage of commission will motivate your employees to sell it more.
For instance, skimming through your sales report, you notice that the accessory sales of your repair shop have dropped. To bring it back to momentum, you can set a commission on the accessories. Every time an employee sells an accessory, they get that percentage of commission from the price it was sold at.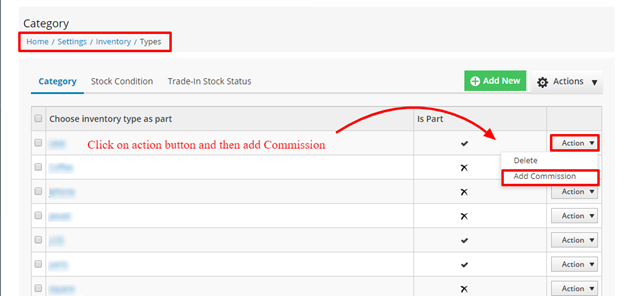 3. Item Wise
The third option is to set commissions' item-wise in your repair ticket management software. Item wise commissions allow you to split commission according to the price it is sold at.
For instance, the tempered glass of the iPhone 12 Pro Max costs more than the tempered glass of other iPhones. So, instead of setting the same commission percentage on all iPhone tempered glasses, you can set more or less percentage according to the price.

Note: Commissions on an individual item take precedence over commissions assigned to category and employee. Like inventory items, you can set commissions for repair services, everyday items, and trade-in devices.
Benefits Of Having Commission For Employees
Robert Miranda, a growth consultant at Cell Phone Repair (CPR), shares how adding commissions helped increase sales for his repair shop.
"So a big reason why our sales ramped up high is that we were playing competitively like to the techs. And we were giving them reasons to sell. So if you sold this. This is the commission that you made."
So, with commissions, you can have an integrated functionality of automating and tracking sales commissions. Thus, allowing you to process employee payrolls efficiently.
With that being said, let's look at the benefits of setting commission in your repair ticket management software.
1. Motivates Great Service
Commissions incentivize good customer service. Each employee benefits from the sale just like you. Thus, helping you construct a system that maximizes your sales.
Additionally, good service leads to increased faithful customers and positive word of mouth. Thus, leading to more sales down the road.
2. Rewards Your Best Employees
Your repair shop commission system will incentivize excellent work performance and ethics. And with a system that gels in well with your repair business, you'll be able to reward your star employees regularly.
Thus, keeping your employees happy and lowers staff turnover. A good commission strategy also contracts the best salespeople in the market.
3. Pay Based On Performance
There may be differing levels, but basically, the commission is a form of repair shop owner paying for a service. And it is easier to measure and less frustrating than a flat salary.
Why? Because our repair ticket management software automatically calculates it for you. You don't have to do it manually. On the other hand, salaries are difficult to alter and can end up in complacent attitude and dull performance. So, with commissions you won't have to worry about that.
4. Help Promote New Products
Many salespersons are wary of selling new products. No one wants to come face-to-face with an unsatisfied customer. So, to help push new products, commissions set on items can encourage your employees to sell more.
5. Measures Profitability
Want to measure your profitability? Sales commission can do that for you.
Setting commissions on different products is an excellent way to look at the overall success or failure of products. Plus, you can also view the individual profit margins and revenue production.
6. Offers a Flexible Schedule
Flexibility in work is a clear motivator and results in better office morale. With a commission-based salary, you can give your employees the flexibility that they need.
After all, if they don't work hard, they won't be paid more. So as long as you have an appropriate base salary to commission ratio, it will be a bonus to your commission structure.
7. Increase Sales
It goes without saying, but we are going to say it anyway. No matter what changes you make to the structure of your repair business or repair ticket management software, the end goal is increasing sales.
The commission is no different. And in this case, your employees bear the fruit with you.
Final Thoughts
Outlining your commission strategy is one of the essential things you can do for your repair business. But, unfortunately, there is no set best solution for each repair business. And at times, looking for the right balance comes down to the traditional trial-and-error concept.
So, there is no harm in experimenting with various solutions to see if they work for you or not. Your repair business will likely experience its fair share of turnover. What motivates one employee to perform well might fail to motivate the other.
Hence, the ideal practice is to focus on good sales processes first.
When your employees can sell confidently, they will be able to repeat their success. Then, creating a fine sales commission structure will be easier for you.