On October 18, 2021, Apple unveiled the new MacBook Pro computers and took the internet by storm. Not only did they address some major concerns of their core audience, but they also introduced some of the most powerful chipsets we've seen yet – the M1 Pro and M1 Max. And it's because of these chips that the new MacBook Pro is an absolutely incredible laptop.
It may not be the best system to fix with computer repair software for many shops, but it's certainly caught everyone's attention. We're here to dissect everything we know about the new MacBook Pro models and list down their benefits. This article will be talking about all the technical specs we can expect to see in Apple's newest offerings.
A MacBook Made for Pros
Apple has put some real thought into the newest MacBook Pro line and it shows. There are a lot of improvements to the MacBook Pro, from port selection to screen to the all-powerful M1 Pro/Max. Let's break each down for convenience.
Apple M1 Pro & M1 Max
The crowning jewels of this year's MacBook Pros are the two new processors. Last year's M1 chipset was a remarkable jump in computing silicon for Apple, and just when we thought we had seen it all, we get something even better.
The Apple M1 Pro is a significant bump up in performance compared to the standard M1 chip. The silicon contains 6 high-performance cores geared at intensive tasks and generating some really powerful output. The CPU performance has been stated to be 70% faster than the standard M1. Along with the upgraded CPU is a 16-core GPU for graphics, 16/32GB of memory, a 200GB/s bandwidth channel, and the older 16-core neural engine for machine learning. New to the chip is the Media Engine component that supports hardware-accelerated encoding for H.264 and ProRes videos. This will be a great asset to creators and filmmakers who work with high-quality footage.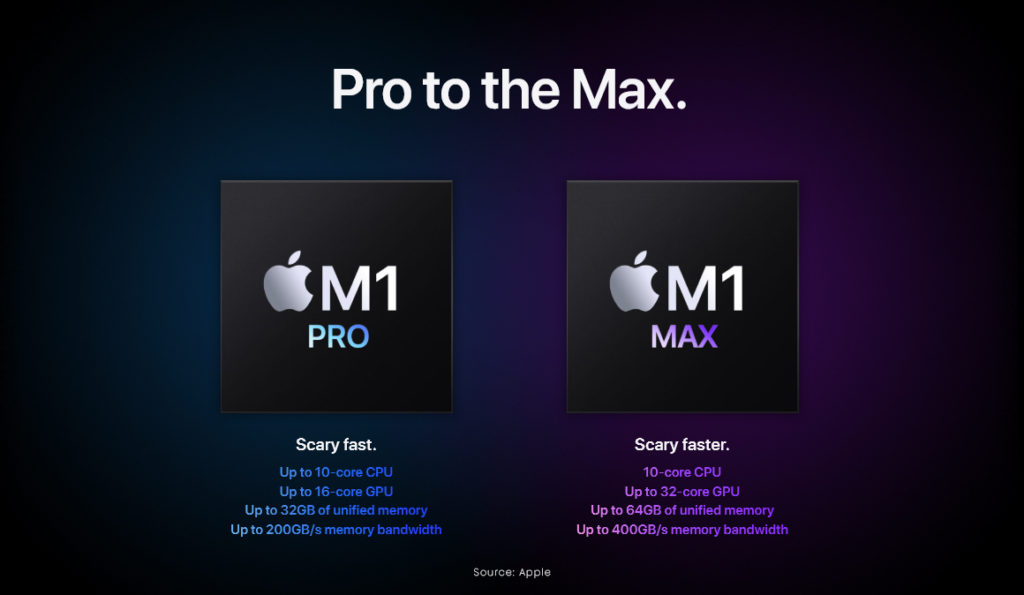 If you think those are some impressive numbers, the M1 Max takes things into overdrive. Effectively doubling the performance of M1, the M1 Max has 8 high-performance cores, up to 32 GPU cores, and up to 64GB of memory. The channel bandwidth will also be double that of the M1 Pro at up to 400GB/s. With this much of an upgrade, there's no doubt that the M1 Max trounces on anything we have in the market today, making it the best silicon you can buy.
Port Selection
The new system has an expanded range of ports this year. You've got the standard two Thunderbolt 4 ports that can be used with USB-C accessories and to charge the device. This year, we get one more Thunderbolt 4 port, bringing the total number up to 3. Additionally, this year we get the return of the HDMI port as well. The port supports HDMI 2.0 only though, but that shouldn't be a problem with displays also running through Thunderbolt and Apple's AirDrop and Sidecar implementations.
Another returning feature includes the SD card reader, which makes it great for professional photographers to quickly transfer their data. This was a feature sorely lacking in the past couple of years, and it's great to see it back. Again, the card reader won't support the newer UHS-III standard, but it's great to see UHS-II support available.
You've also now got a headphone jack that can drive high impedance headphones, which is great for audiophiles. No longer will they need an external amplifier to crank up the audio to hit that sweet spot.
But perhaps the most important addition this year is the return of MagSafe for MacBook Pros. The new MagSafe 3 connector works identically to older models, but the cable now comes with a USB-C end connector. Also, it is capable of topping the system up to 50% in 30 mins. The reintroduction of MagSafe alone makes this a MacBook worth having.
Display
This year, the MacBook Pro comes in two different sizes – a 14-inch model, and a 16-inch one. Both feature the new Liquid Retina XDR display found on the company's iPad Pro we've seen recently. It's also got a 120Hz adaptive refresh rate. This brings buttery-smooth animations of the new macOS Monterey to life and remains highly power-efficient to go with it. Much like the iPhone 13 Pro/Pro Max, this is an excellent addition.
The displays are great for outdoor viewing, with a sustained brightness of 1,000 nits and a peak of 1,600 nits. They feature a 16:10 aspect ratio with approximately 4K resolution behind them, with the screen made up of 10,000 mini-LED components. Needless to say, viewing content on them is going to be a real pleasure.
One odd decision the company made was to outfit the MacBook Pro with a notch at the top of the display. Seeing it hang below the 3.5 mm bezels is very odd, and without Face ID to boot. Instead, it houses a 1080p camera with an f/2.0 aperture. The notch lies over the classic Mac menu bar and doesn't seem to get in the way of fullscreen applications or media playback, though. Still, it's fairly strange to see such a weird design on this kind of hardware.
Keyboard
Apple has had a history of bad keyboard designs, with the butterfly keyboard being especially problematic. After course-correcting on that design last year, the new MacBook Pro returns to form with the reintroduction of a full-sized Magic Keyboard.
This new keyboard layout does away with the Touch Bar altogether and brings back the Function keys, complete with alternative functions. It comes with a Touch ID sensor in the top-right corner and is specced out in an all-black configuration that's honestly a welcome change. MacBook Pro users have long lamented the loss of the Function key row and the often-maligned Touch Bar as its replacement, so the return to form will bring a great deal of joy for them.
A MacBook with the No's
There's honestly a lot to love about the new MacBook Pro. Apple addressed complaints from consumers quite adequately here. But even with all the love for the MacBook Pro, Apple's anti-consumerism touch surrounds its newest product.
The first problem is power. With the base 14-inch model, the power adapter bundled is rated at 67W. This is absolutely not enough for a machine of this caliber and price. A 67W charger is incapable of fast-charging and will undoubtedly result in more people springing for the 96W charger at an extra US$20. Selling extra MacBook accessories and parts that should be packed in the base purchase isn't welcome at all.
On top of that, the lowest-end model will be missing 2 CPU and GPU cores and limited to 16GB memory & 512GB storage. Only the M1 Max comes with 64GB memory, so be ready to break the bank.
And of course, these MacBooks will also be virtually unrepairable, as has been the standard. Repairability with Apple products has always been an absolute nightmare for third-party repair shops. Even if you have the best computer repair parts suppliers in the USA at your disposal, it doesn't mean much if the system is extremely difficult to fix. So you can be sure that the MacBook Pro will be just as headache-inducing to fix as other Apple products.
With all these issues persisting, the outrageous price range of the MacBook Pro is going to be a bitter pill to swallow. Apple's propensity to nickel and dime its core audience is going to play a factor here as well. The MacBook Pro may start at US$1,999.00, but the base model is a tough sell, and getting something better takes it well above the $2,800 mark.
Final Words
There's no doubt that the new M1 Pro and M1 Max MacBook Pros are the best in the business. These machines are absolute beasts when it comes to performance on paper. Indeed, there's a lot to be excited about here as a consumer. But with the compromises of its configurations and the frankly obscene price plan, this Pro is not for the faint of heart.