Receive payments on time, every time with Recurring Payments – Introducing in RepairDesk.
With the rapid advancements in payment technology methods, cellphone and computer repair stores need a hassle-free, fast yet handy way to collect "Recurring Payments."
Being a repair store owner in the massive market of the U.S, almost all of us have come across recurring payments somewhere in our lives. Besides getting paid for a one-time repair service, topping up phones, or selling bundled inventory items, this feature will allow you to generate subscriptions within RepairDesk.
Recurring Payments gives you the advantage of charging the registered credit card or direct debit of a customer periodically. You can charge a customer for, say, once a month without any additional request or the need to receive renewed authorization from your old and regular clients.
With the RepairDesk "Recurring Payments" module, you can customize billing frequencies, billing dates, auto-calculate proration for upgrades & downgrades, etc. You can also create and customize recurring invoices that run on autopilot for online and offline payments, with all the required line items and tax details. Thinking about how recurring payments module in your cellphone repair shop POS software could benefit you? Here are some ways auto-recurring billing can help your business grow: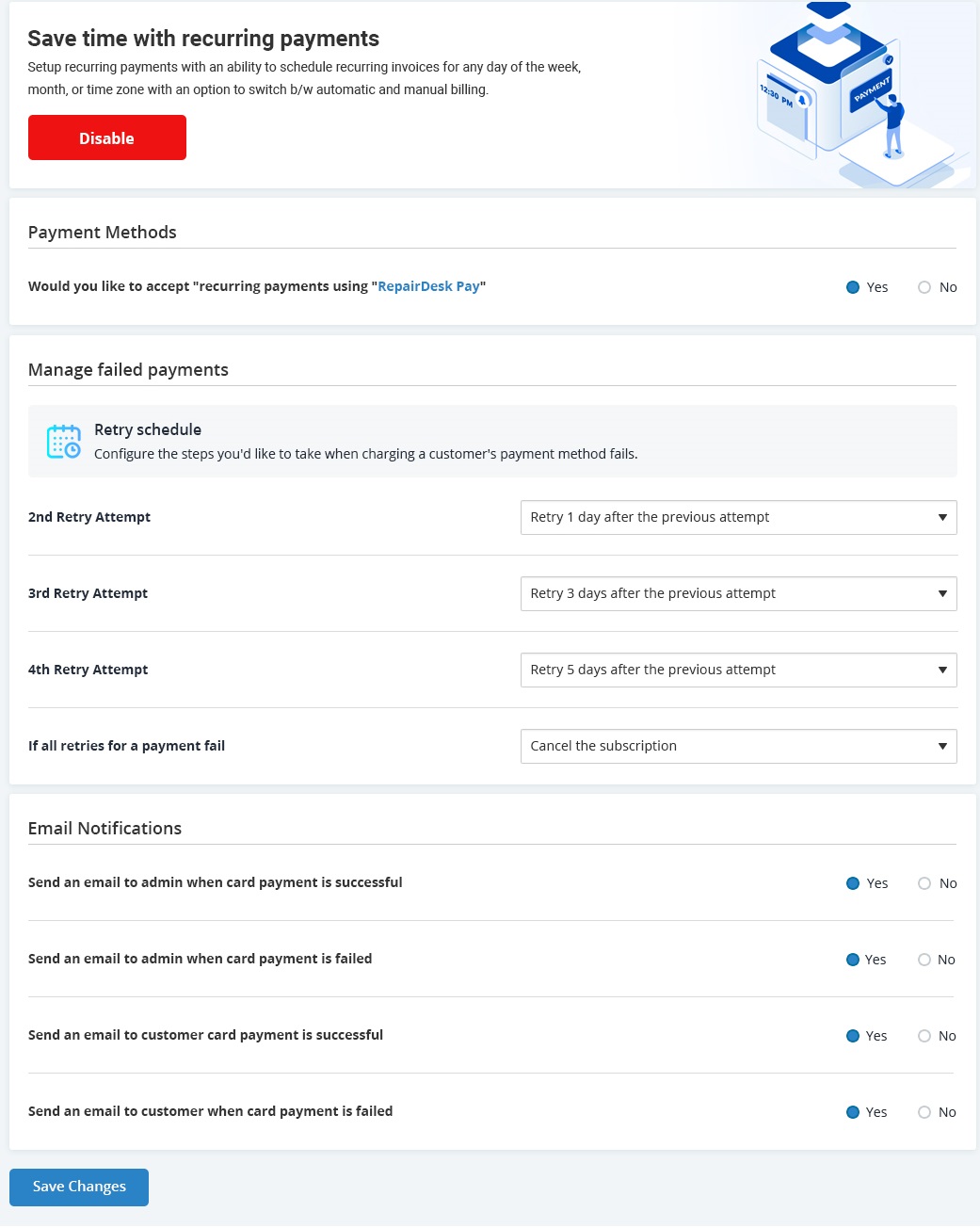 Subscription Plans
Offer plans matching to the needs of each customer or customer groups or a better conversion rate. 
Set Billing Intervals
Put your billing on auto-pilot by selecting when to take payments; weekly, bi-weekly, monthly, or annually.
Go Automatic with Recurring Billing 
With RepairDesk's new module, you'll automatically charge your clients for remote support after a set interval and email them an invoice with a "Pay Now" button. 
If you're a merchant in the U.S, get paid online instantly by subscribing to RepairDesk Payments. 
Here you can watch this feature in action.
Secure Processing with Recurring Payments
With RepairDesk's upcoming Recurring Payments solution in the Enterprise Version, sensitive card data will be stored with end-to-end encryption.
(Recurring Billing will be available for FREE in the Enterprise Plan but repair merchants can buy it as a separate module if they've signed up for any other RepairDesk subscription, Lite+, or Professional.)
Error-Free Single Time Entry
Reduce double data entries every time the same customers come for a damaged device repair. Create an invoice as usual and save it for the recurring billing later on.
Device Protection Plans
Sell Device Protection Plans against a monthly fee to improve your customer retention.
Boost Customer Retention
Many B2B repair shops enjoy the set-it-and-forget effect that recurring billing has on their monthly/annual bills. Be considerate about those bills in the same amount each month and due on the same date each month. You'll also avoid undue messages that constantly pester customers to pay. With recurring payments, they appreciate the security & knowing that they pay their bills each month without fail, without effort, until canceled.
Layaways
You can use RepairDesk's Recurring Payments to offer layaways to your customers. It often happens when a customer is interested in a product or service bundle but falls short of money to pay for it. In that case, you can secure your sale by offering a layaway.
From customers demanding a more personalized experience to businesses relying on data to make smarter business decisions, a computer repair shop software is at its center. It's the intersection where business logic and real-time business transactions meet, and it's where all the action happens. As a repair merchant, it's essential to stay on top of your POS technology's latest trends, so you can stay steps ahead of your competition. Sign up for a FREE Trial of RepairDesk and see it by yourself!
Take the Next Step: 
Start earning recurring revenue easily with RepairDesk's Recurring Payments. Just click on the button to schedule a demo and sign up for our new feature.
Schedule a Demo for Recurring Payments