No repair store can run without a trusted supplier, now can it? That's why we not only have shared with you the top names in the cell phone part suppliers but have also integrated the best cell phone parts suppliers in the US with our repair shop software. 
That's right, with our cell phone repair shop management software, all repair merchants can place their orders for cell phone parts from MobileSentrix, InjuredGadgets, ReVamp Wholesale, MobileHQ, MyCoolCell, and PhonePartsUSA with just a few clicks. 
Since everybody knows how awesome these cell phone parts suppliers are, they all order from them. Consequently, the vendors are super busy and their stocks can run short. Sometimes you're just about to place an order for your required cell phone parts, you may find out that they are out of stock. What to do then? Well, here's a quick fix that many repair fellas apply to save their day and so can you – using these cell phone parts suppliers as a backup.
Siren Wireless is one of the trusted cell phone parts suppliers of many repair store owners when their regular vendor is out of their required items. They cover a wide range of mobiles parts as well as accessories. So do check them out to have a backup vendor in your corner.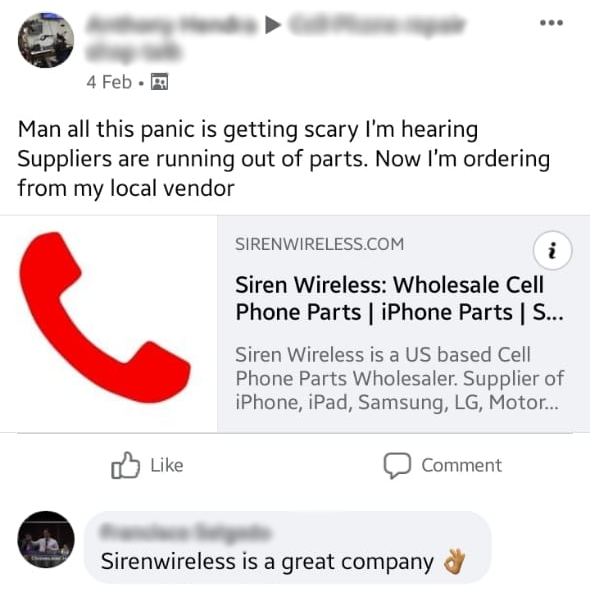 NeoCellular Parts is another known name in the backstreet of cell phone parts suppliers. Many repair shop owners recommend it for fast and warranted parts delivery. Hence, this is a reliable option for ordering some parts when your number one choice supplier gives you a hard time just like these fellas. 
Mobile Defenders is in the good books of many repair stores for delivering the best quality mobile parts, accessories, and other repair tools. The company is also famous for entertaining its customers with exclusive discounts and offers, making itself a nice catch. Looks like it's winning on that.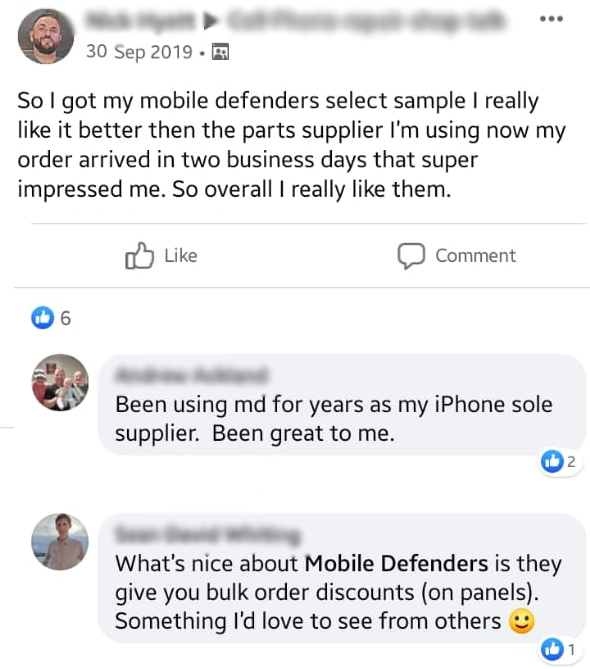 Last but not least is YourCellParts. A company that has all the cell phone parts for a range of mobile brands and is known for the uninterrupted availability of all its products. You can even use it as your used phone supplier and buy second-hand phones in bulk on discounted prices. Here are some tried and tested examples for you.
Stay stocked, always!
Do not let those "sorry we are out of these parts" notifications ruin your day or, more dangerously, your sales. Trust the words of these repair shop owners and get in touch with their recommended cell phone parts suppliers to keep everything in stock. And if you need a cellphone repair shop software to manage your store inventory, try RepairDesk. Our repair POS software is the number one choice of US repair merchants and our team is always there to back you up with all your store management hassles.