Computer Repair Doctor (Cleveland) has been in business since 2017. The owner, Alex Marini Garvin, stayed onboard with Computer Repair Doctor's in-house software to manage his franchise store until the start of this year. It has been seven months since CRD (Cleveland) switched to RepairDesk and Alex has got all the control over his business operations that he ever wanted. 

Story of Computer Repair Doctor (Cleveland) 
Our friend Alex was into technology from a very young age. Even as a college kid, selling and repairing people's iPhones and Macbooks was his thing. So yeah, he always knew what he wanted to be when he grew up – a computer repair doctor (pun intended). 
One fine day, Alex heard about Computer Repair Doctor, an electronics repair business building up from Tallahassee, Florida, through a friend who was working for them. He asked his friend to set up an interview with CRD owner Matt Ham, went in, aced it, and joined the business as a Regional Manager & Senior Technician. Ain't that a proud moment? But wait, it gets even better!
In that first interview with Ham, Alex had told him that he would love to one day open a CRD store in his hometown Cleveland, Ohio and guess what? He really did. 
"Five years ago I started with Computer Repair Doctor, came on as a Regional Manager when Matt was quickly growing his business. He already had two stores and was opening more in other locations. So I helped him grow and trained the new staff, it was awesome! Then, in 2017, some life thing happened and I was able to move back home to Cleveland with CRD. 1st of this August was three year anniversary of my very own CRD store Computer Repair Doctor Cleveland."

Quest for an independent repair shop software
Ever since opening his Computer Repair Doctor franchise in Cleveland, Alex was managing the store with the same piece of software that Matt had set up. It was a pretty decent POS system for basic store operations like repair ticketing and invoicing and they called it "the panel". 
"Matt has built his own panel to manage all of his stores, which is a solid software with a POS screen for creating repair tickets and tracking inventory. It can also do messaging and quotes from the CRD website. We used it to run operations at our store but ultimately moved away from it because it was more suited for Matt to have control over all Computer Repair Doctor stores and not for us to manage our solo store."
"We were having major inventory management issues with our previous computer repair shop software because it had mixed inventory records of all Computer Repair Doctor stores and not just ours. So we wanted a more independent system to see what's going on at our store to better manage our operations."
What Alex was missing in his previous repair shop management software was power and control over his individual store. Now, what do you do when you need an independent software for your repair shop? You go online and look for the available options in the market, try them out, and then take your best pick, right? Yeah, that's exactly what our friend Alex did. But almost every repair shop software offered him the control that he was looking for. That brings us to our big question: why did Alex choose RepairDesk? 
Why RepairDesk?
You know that feeling when you know exactly what you need and you do find some fair settlements, but then there's something so damn good that makes you go 'wow'? That's just how Alex felt with RepairDesk and here's why.
RepairDesk Payments
RepairDesk Payments was definitely the best surprise for Alex and he couldn't help but fall in love with our in-house payment processing service. 
"When Usman introduced us to RepairDesk Payments, it was really huge. An all-in-one payment system with a very nice customer facing display that also carries out contactless payments, what else could we ask for?"

Feature Updates
The fact that our computer repair shop software keeps getting better and better adds more value for our customers and sets RepairDesk apart in the competition, and Alex took a keen note of that.
"From RepairShopr to RepairQ, we tried all the big software names in the computer repair industry. But none of these felt as well thought out as RepairDesk. I mean, some of these repair POS systems have not been updated in 9 months or even a year. With an industry that's constantly evolving, it's very nice to see RepairDesk rolling new updates, improvements, and additions every other week."
Customer Support
We do have a great deal of features to solve day-to-day management hassles of repair stores like Computer Repair Doctor (Cleveland). On top of that, we have an amazing customer support service which, compared to other computer repair shop software, adds a million points on our side. And our friend Alex couldn't agree more.
"Another big thing that goes without saying is the customer support with RepairDesk is above and beyond. We certainly had issues in our trial period, there were things that we couldn't figure out, things we had to learn. But every time we needed help, somebody was there to guide us through and it still is that way."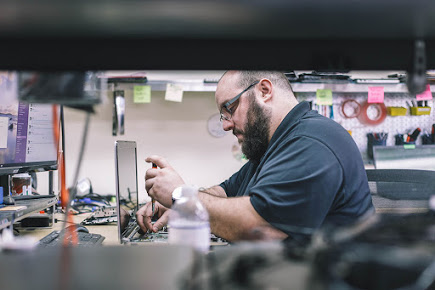 Once Alex got his new computer repair shop software, he put in his work to customize the POS system the way he wanted and then shared it in our RepairDesk User Group with all other customers. It was awesome!
Other than its 99.99% customizable system, there are some particular things about his new repair shop software that Alex is almost obsessed with. Like inventory management, special parts ordering, sales reports, RepairDesk Payments, customer facing display and employee clock in/out features. 
"We used to have to pay extra just for the employee clock in/out feature in our previous POS software. But now, I mean, this littlest feature in RepairDesk is saving us about $200 a year, which is incredible."
End Result: Computer Repair Doctor (Cleveland) is busier than ever!
Computer Repair Doctor (Cleveland) joined RepairDesk just as the coronavirus pandemic hit the world. Poor Alex, searching for an independent computer repair shop software and then finally getting it must have gone to waste, one would think. Truth is, it's anything but.
RepairDesk has been immensely helpful in coronavirus-proofing Alex's store with its online appointment booking widget, contactless payments, and woo-commerce integration features. As a result, Computer Repair Doctor (Cleveland) has been having a bang in business.
"I was trying to find the best solution that would be an easy transition for not only myself but also my employees. And when I did find it, we had to make that transition at the very beginning of a pandemic. We started with RepairDesk since day one of the pandemic and it was hit the ground running. It has solved all our store management issues as well as helped us grow our business."
"Everything about RepairDesk is professional and awesome. Not only does it help us track our inventory on the fly (just like we wanted), but the online payments system with RepairDesk Pay has also been massive for us. Even with this ongoing pandemic, every month has been better and busier than the last."
You see, we don't have customers, we've got a big RepairDesk family. Alex and Computer Repair Doctor (Cleveland) are a part of it now and are having a great time with us. If your computer repair shop is struggling during this pandemic or your store management gives you headaches in general, take the doctor's word here and come to RepairDesk. Our repair shop software is the pill for all your business pains.