Considering your convenience, feasibility, and usefulness, we have made a couple of improvements in ouriPad POS Register app. Let's take a look what's new this time;
Improvements:
A New trigger in Google Cloud Print settings
Considering the demands of our customers, we have implemented a new trigger in our Google Cloud Print settings, and have replicated it on the iPad POS Register app as well. We have separated triggers for printing thermal receipts of tickets and invoices to avoid any confusion and to make print management easier. Now when you create an invoice against repair items, you will also have an option to print it with our Google Cloud Print integration.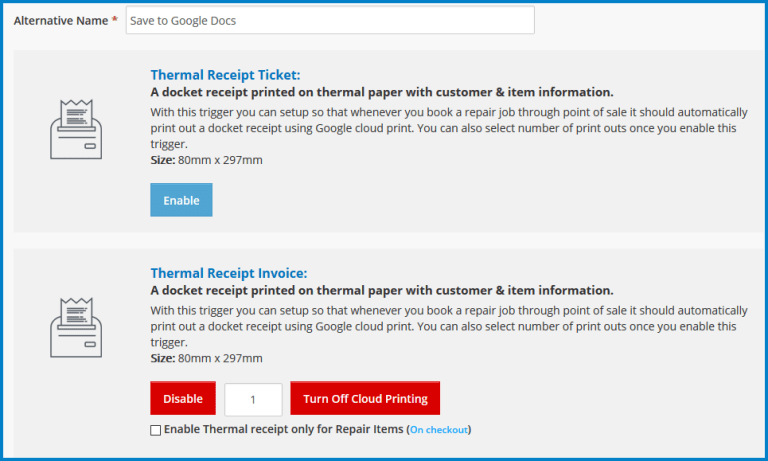 An enhanced Inventory Valuation Method
We have added the option to mark items as serialized directly from the iPad POS Register as well as from the web app. When you add any new inventory item from the iPad app, you can either mark the item as serialized or set a valuation method against that item. However, you have to use your web account to create serials against that item.
Also, if an item is marked as serialized, you will not be allowed to put them up for sale without selecting serials first.
Bug Fixes:
Selling Serialized Inventory Items Without Serials
An issue was tracked while selling serialized inventory items from the POS Register. The app was allowing users to sell serialized inventory items without selecting serials. This has now been fixed. Now, in order to sell serialized inventory items from the iPad POS Register app, you will need to select serial first.
Toggle Not Shown on Checkout Screen
When creating an invoice from a repair ticket, the 'Repaired and Collected' toggle was not showing on checkout. This issue has been fixed, and you will now be able to see the toggle correctly on the checkout screen.
Display Customer Name in Estimates
When an email was sent to customers against estimates, the customer name was erroneously treated as 'Walk-in Customer'. We have now fixed this issue, and the customer name is displayed correctly in emails sent against estimates.
Discount Value is Removed on Re-Opening Estimate
When an estimate is created and re-opened in the iPad POS Register, the discount value was erroneously being set to 'zero' which was a bug. This has now been fixed, and the correct discount value will now be populated when editing the cart.
Logout Transactions Being Duplicated
The logout transactions were being logged twice within the Employee Activity log report. Now, entries will no longer be logged a second time while logging out from the iPad POS Register app.
IMEI & Serial Number Restriction
The IMEI and serial number field was restricted to accept less than 15 numbers while creating a repair ticket. This restriction has been removed as it was creating issues within the serials field as well.
Fixing Overall Discount
In case of estimates created from the web app, the overall discount value was not populated on the iPad POS app. We have resolved this issue, and users can now see the proper values.
Enjoy using the world's 1st iPad POS solution for cell phone repair business.
RepairDesk makes your life easier by helping you manage your work effortlessly and with just a few clicks. We have everything – from creating repair tickets to inventory management and more. Get a FREE trial of our all-in-one POS software for your cellphone repair store and see it for yourself!