Running a repair business is a hustle. You have a hundred things to take care of. So you are not always available in-store. That is why, RepairDesk Mobile App is here for repair shops so you can:
Collect customer signatures
Add payments
Pull up business

reports
..and do so much more right from your smartphone, anywhere and anytime!
On top of that, your technicians can use the RepairDesk Mobile App for onsite repair services. And better yet, we have added a couple of new things in our mobile app to help you run your business like a superstar. Here's what's new in the RepairDesk Mobile App.
Push Notifications
Get notified about all the major actions happening in your repair shop software on your phone. That's right, you and your team will now receive push notifications on the phone whenever
a new repair job is assigned to an employee;
somebody updates the due date of a repair ticket;
someone adds a diagnostic or internal note with a repair ticket;
due date is passed for a repair ticket.
So just download and log into the RepairDesk Mobile App on your phones and it will keep y'all posted.
Canned Responses
Just like RepairDesk web and iPad apps, you can now send automated canned response emails and SMS to your customers with the Mobile App. All the canned responses that you have created in your RepairDesk web app are now synced with your mobile app. So you can simply select canned responses from your mobile app and send to customers to let them know about the status of their repair via email and SMS.

You can learn more from our Knowledge Base article on How Can I View Tickets In RepairDesk's Mobile App?
Your Technician is on the Way – SMS / Email
This one's for all the repair shops that offer onsite repairs to their customers.  Your field service technician can now let the customers know that he/she is in on the way to their place by sending them an email or SMS from his phone.
Here's the best part: the email and SMS notifications will send the technician's current location plus the estimated time to the customers. This way, the customers will know exactly where your technician is and how long it's going to take him to reach their place. How cool is that?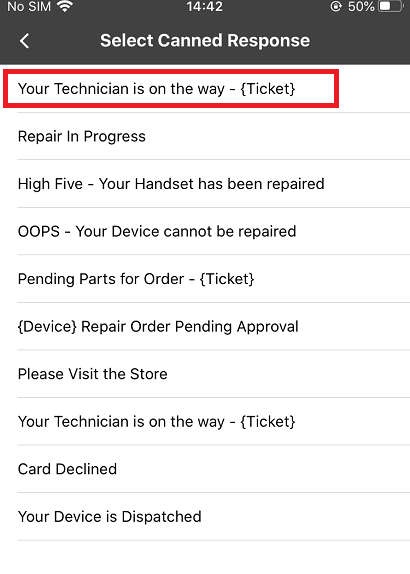 Want to learn more? Head on to our Knowledge Base article on 'Your Technician is on the Way – SMS / Email'.
Billable Hours
Your technicians can charge customers per hour for the onsite repair services with the Billable Hours feature. All they have to do is edit the repair ticket and enter the hourly rate and time spent on the repair service on the mobile app. The system will automatically calculate the total payment amount and display it on the ticket. The technician can then take the payment from customer, add it on the mobile app, share the invoice with customer via email, and get going!
Visit our Knowledge Base article on Billable Hours – Mobile App for more information.

Get RepairDesk Mobile App Now!
Run your repair business the smart way with RepairDesk Mobile App and make your life easier. It is available for both Android and iOS devices.
Need a repair shop software to automate your business operations? Try RepairDesk, it's not just a software but your repair business partner that understands your problems and gives the best solutions. So you can take a well-deserved breather from the day-to-day hassles of your repair business and focus more on growing it. Sounds like a plan, right?