Nowadays, businesses are trying to keep up with increasingly distracted customers and popular online sales channels. You need all the benefits you can get to keep customers coming back to the store while providing a seamless shopping experience through your repair shop system.
Every day you spend hours behind the counter, monitoring all the departments of your repair shop. Now you may be content with the effort you have invested in your repair shop.
But have you ever considered things from a customer's point of view?
Have you ever thought about how your repair shop experience feels like for someone standing on the other side of the counter?
So, let's consider a tool for your repair shop system that can help capture hundreds of customers. THAT TOOL IS CUSTOMER-FACING DISPLAY.
What is a Customer Facing Display?
RepairDesk's customer-facing display is a screen that shows all the order information to the customers while checking out.
Sign Up for a 14-day FREE Trial!
The cashier has a point of sale screen on which they add items to the cart and record customer's data. They can review quantities, items, discounts, and tax percentages. On the other hand, customers can view items rung up from the customer-facing display. Thus, keeping the customers informed about their transactions.
Nicholas Helton of iMechanic shares his experience after using our customer-facing display and other features.
"You know, I like RepairDesk because it has a lot more to offer than other repair shop software, and it had all the integrations that I was looking for, like the BuyBack Widget, the Self Check-in, Customer Facing Display, etc. But I love RepairDesk because it gives us a feeling of partnership. We can talk to their CEO and the support guys anytime we need, and they are always there for us."
Here is what our customer facing display looks like.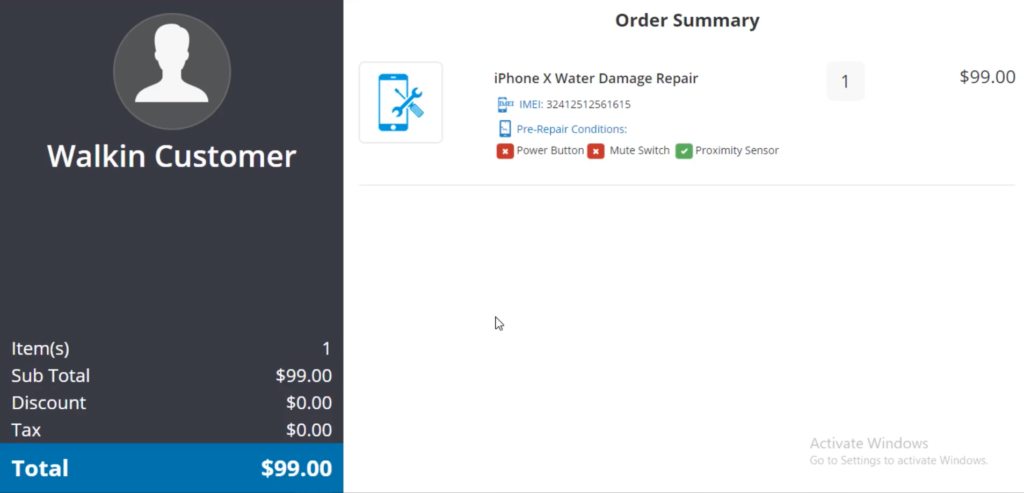 Benefits of Integrating Customer Facing Display in your Repair Shop System
It may appear like a nice-to-have essential for your repair shop system. But a customer-facing display comes with a lot more benefits for your repair business than you can imagine.
Here are 6 ways virtually any repair shop owner can benefit from a customer-facing display.
1. Increases Customer Engagement
Researchers have found out the customers wait happily if their time is occupied. Thus, the customer-facing display serves as a valuable tool because it can draw attention away from the wait and reduces boredom.
For instance, you can display "message of the day" that highlights new additions to your inventory. You can also showcase your social media profiles to enhance your online marketing techniques.
In addition to this, it provides an aura of professionalism and is downright organized. It builds the trust of customers and provides convenience. They can view all the items that have been punched in and see how their invoice is generated.
2. Boosts your Repair Shop Brand
Making a strong brand presence has become more critical for repair shops. And a customer-facing display can assist in reinforcing the brand message you want to give to your customers.
Our customer-facing display is customizable. You can adjust the feel and look of your display to match your repair shop brand. You have the option to change everything, including font color and size, promotional images and logo, etc. So that you can make sure your repair shop system display fits your repair shop and not the other way round.
Therefore, it will create a good relationship with the customer. And will make it easier for the customer to remember your repair shop.
3. Achieves Order Transparency
As much as customers care about efficiency, they care more about accuracy. Human errors are inevitable, but with the right technology, you can help eliminate these errors. Thus, allowing you to optimize your checkout process.
A customer-facing display allows the customer to see the entire checkout process and view the prices, discounts, and total on the repair shop system. In addition, they can identify any errors. As a result, customer-facing displays decrease miscommunication between the customers and staff, eventually leading to fewer order mistakes and voids.
As a result, customers will consistently get correct orders and it will reduce your chances of getting negative customer reviews.
4. Get Digital Signatures on Terms and Conditions
When completing a customer's order, you can display the pre and post-repair checklist along with the terms and conditions of your services. In addition, you can take digital signatures of the customer to make sure that both you and your customer are on the same page.
Hence, you can get authorization from your customers on payments before and after repair. It will allow you to decrease the chances of payment disputes and win more chargebacks.
5. Get up to 9 Terminals
Our customer-facing terminal provides 9 terminals to choose from. For instance, if one of your employees is using terminal 1, the other one can use terminal 2, and so on. It allows you to deal with multiple customers at a time with their work orders displayed at their respective counters.
If your employees pick the same terminal at once, it will pick the first request, and the next order will be in the queue.
6. Allows Customers to Self-Check-In
Our customer-facing display also supports the feature of self-check-in. Allow your customers to enjoy a more direct and faster checkout experience without waiting for your staff. They can check in your repair shop while your employees engage themselves with repairing the devices on hand.
Here is what Bryan Holmes of iStation shares about how our self-check-in widget increased customer engagement for them.
"At iStation, customers can use the self-check-in terminals to book their devices and save time. Upon the wall, in clear view, you can see the ticket counter display showing you the number of repair jobs in progress and the timeline of your device's diagnosis and repair."
To keep up with the competition, you need to adopt unique techniques to keep the sales coming in. A customer-facing display creates a pleasing experience both for the workers and customers. Remember, customers always want an enriching, immersive, and consistent experience for digital and physical space. So, make sure you give them that.