Network unlocking is a service that cell phone repair shops often need to provide to customers. It's something that usually doesn't come bundled with Phone repair shop software, so you'll need to look for it online. But where do you start? Where can you find the best sites and services for your network unlocking needs?
One thing to consider is price. Some of the services out there are quite expensive, while others are more affordable. It's important to weigh the cost against the benefits, though. For example, if you only need to unlock your phone once, then a service that charges per unlock may be more expensive than one that has a flat rate.
Another thing to consider is convenience. If you're not comfortable doing things yourself, then a site that provides software may not be right for you. In that case, finding a service that will do the unlocking for you might be a better option.
Well, we've looked far and wide for the best sites out there, and have made a list just for you. Our aim will be to highlight what each major service provider's offerings are, what regions they cover, what payment methods they use, and the customer reviews they have accrued. With that being said, here are the best network unlocking websites to use with your repair shop software in 2021.
Sign Up for a 14-day FREE Trial!
UnlockBase
Let's start things off with one of the best. UnlockBase has been one of the most trusted online cell phone unlocking sites on the web since 2004. With close to two decades of remote unlocking experience, they've developed their services to be professional, customer-friendly, and priced just right. They boast an impressive record of unlocking over 5 million devices and counting.
Their services cover a number of regions, including Europe, North America, Japan, Australia, Jordan, South America, and many other regions. Prices and turnaround time vary depending on your region, and they have a handy chart on unlockbase website that you can use to get a full range of their services.
The website also offers a one-year account history, order tracking, IMEI checks, bulk entries, SMS alerts, and a host of other features. They even have a money-back guarantee if they are unable to find your unlock code. The service accepts a number of payment methods, including cryptocurrencies such as Bitcoin, Ethereum, LiteCoin, and Dash.
They also have received stellar customer reviews on services like TrustPilot, Reseller Ratings, and Review Centre. Evidently, customers from all over the world are satisfied with their business.
For an independent repair store, going with UnlockBase is a great idea, since they provide 24-hour support, simple instructions, and a money-back guarantee.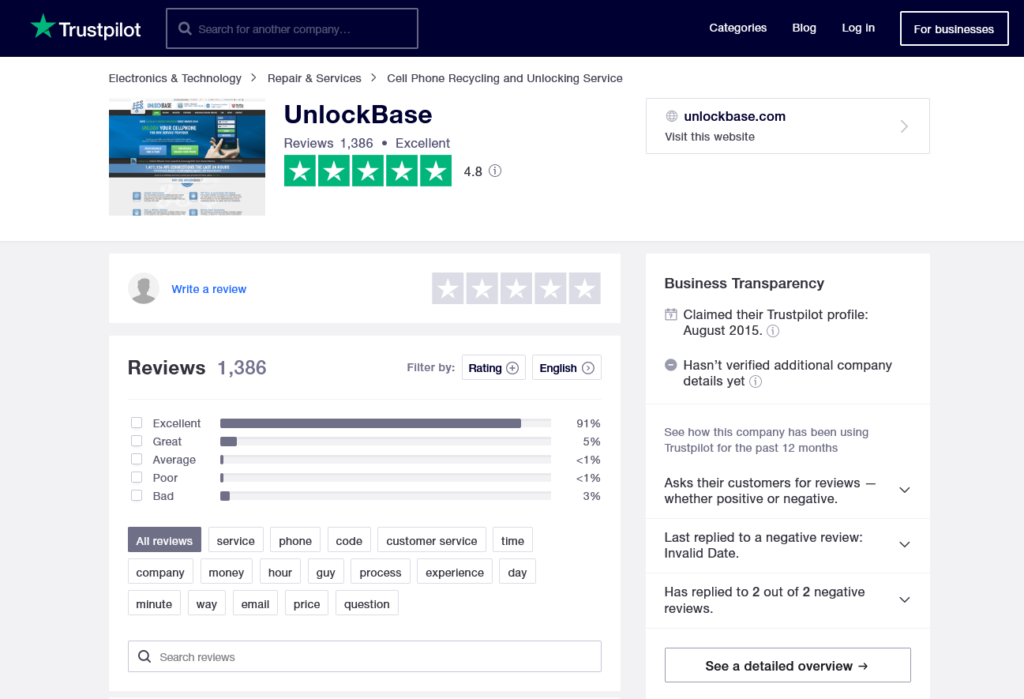 doctorSIM
doctorSIM is another service with a venerable history. Started in 2007 in Spain, the company has been providing unlock services to many countries the world over, including the US, Canada, countries in Europe, and most of South America. Their website provides unlocking services for a number of different brands, from the extremely popular to the extremely rare.
The website also has multiple checking services available for blacklisting, SIM lock status, iCloud activation status, warranty status, and other tools to help repair shops. They also provide top-up services for more than 200 countries the world over, and a list can be found on their website for more info. These tools will no doubt be very helpful when paired with your repair shop software to service phones.
For payment, doctorSIM uses a variety of payment methods. These include credit or debit cards, PayPal, Apple Pay, Bitcoin, and other cryptocurrencies. For countries like Spain, Mexico, Argentina, and Chile, they have additional payment methods that customers can use, providing greater ease.
When it comes to reviews, doctorSIM boasts an excellent portfolio on both TrustPilot and Review Centre. Customers have shown to be very satisfied with their services, and have given them an average of 4.4/5 stars based on 9,796 reviews at the time of this article.
doctorSIM is another great choice for your network unlocking needs if you're looking for someone reliable. Their focus on customer service and expansive list of phones can help you out when all else fails.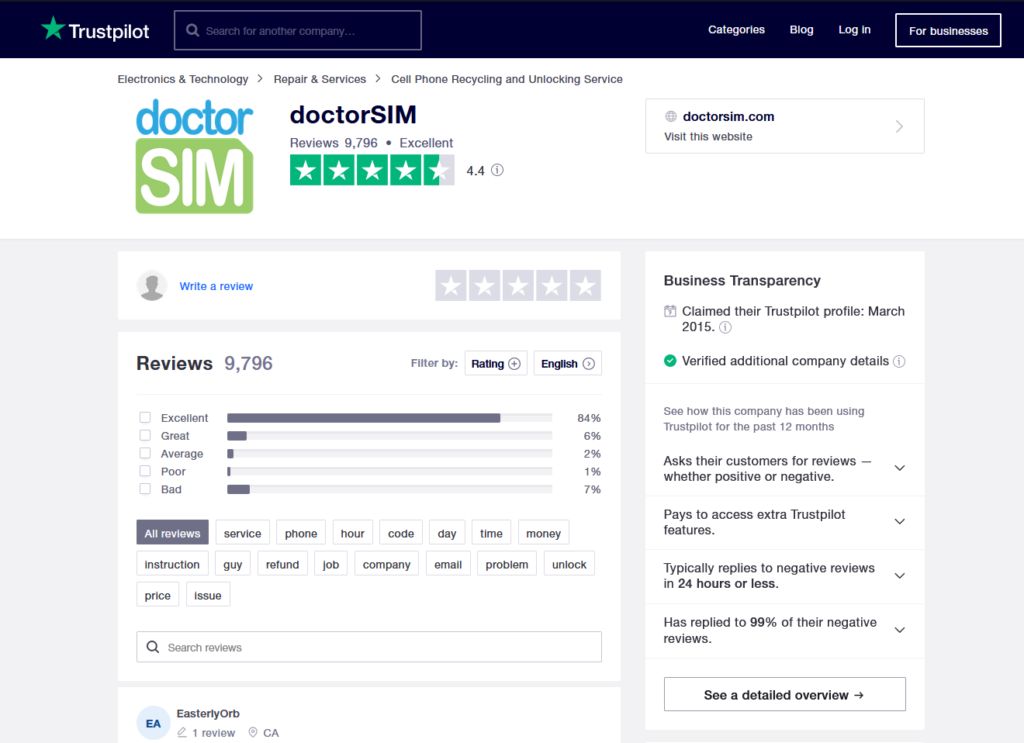 CellUnlocker.net
In 2007, CellUnlocker.net was started in Canada. The company offers a host of services that have helped it to gradually expand and become a highly-trusted brand. Their website offers to unlock phones for a number of different brands, with the unlocks themselves being varied. However, they excel at network unlocking and advertise it heavily on their website's front page.
The main benefit that CellUnlocker.net purports is its ability to permanently unlock your phone for travel. This allows you to use local SIMs on your phone without any roaming charges. They also offer competitive pricing, 24/7 support, and a money-back guarantee for their services.
One of the more impressive feats of CellUnlocker.net is that they cover a large range of networks. Their services are spread out over regions such as North America, South America, the United Kingdom, the EU, Middle East and North Africa (EMEA), Japan, South Korea, and Australia. This is also reflected in their device offerings, which range from the common iPhone and Samsung to Blackberry and Nokia. This makes them a great choice for unlocking older phones for almost any part of the world.
While CellUnlocker.net excels at its offerings, it lacks heavily in its payment systems. The company only accepts payments through PayPal, and while it is pretty reliable, the lack of other options hurts here. Credit and debit card payments can only be made through PayPal, and there is no option for cryptocurrency or Apple/Google Pay.
CellUnlocker.net certainly has a lot of reviews going for it, though. The company has a lot of satisfied customers that have put down positive reviews for them. This gives a lot of confidence to new clients who want to use their services. Platforms like TrustPilot and Review Centre have lots of favorable reviews of CellUnlocker.net.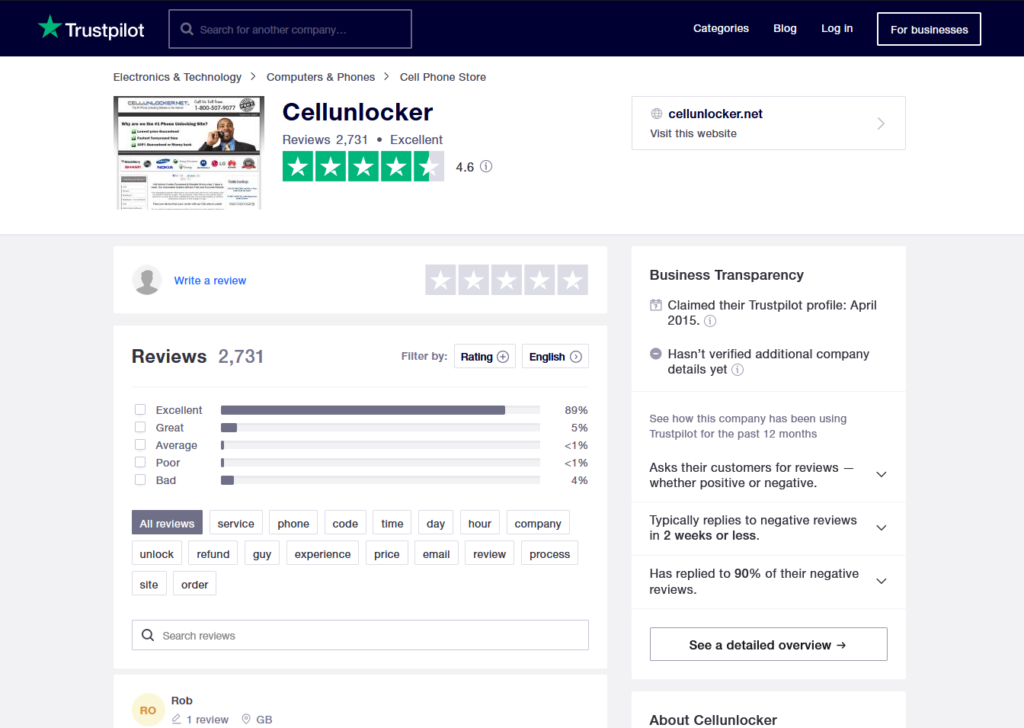 CheckM8.info
CheckM8.info is a bit of an odd-ball website. Started in 2019 in Russia, the service works exclusively with Apple devices and provides a host of services. One of them is the iPhone SIM unlocker, which makes your device run on any network you want. This comes with a bit of a caveat – it only works on iPhone 5s and above running iOS 12.0-14.7, and you'll have to jailbreak your phone to make use of it. RepairDesk does not condone jailbreaking your device and voiding your warranty, so use this service at your own risk!
The software itself will need to be installed on a macOS system, where it will remove software restrictions on your phone and unlock it for use with any network. According to the CheckM8.info website, this process only needs to be done once and remains until you factory reset your phone. If you do reset your device, you can unlock it again for free after already paying for it the first time.
The payment for the service is a flat US$29.99. CheckM8.info says on their website that you can pay via Visa, Mastercard, AMEX, or cryptocurrency. They also claim to guarantee a full refund under circumstances to put customers at ease. Unfortunately, we couldn't verify the payment gateway being used.
While the website may seem sketchy to most, the surprising amount of reviews they've gathered prove otherwise. CheckM8.info is currently listed on TrustPilot with a favorable rating of 4.9/5 stars based on 1,667 reviews. This shows that plenty of their customers are happy with the service.
The service may seem like a great solution for Apple devices, however, we advise you to take this info with a grain of salt. CheckM8.info is worth considering when there's no other option left.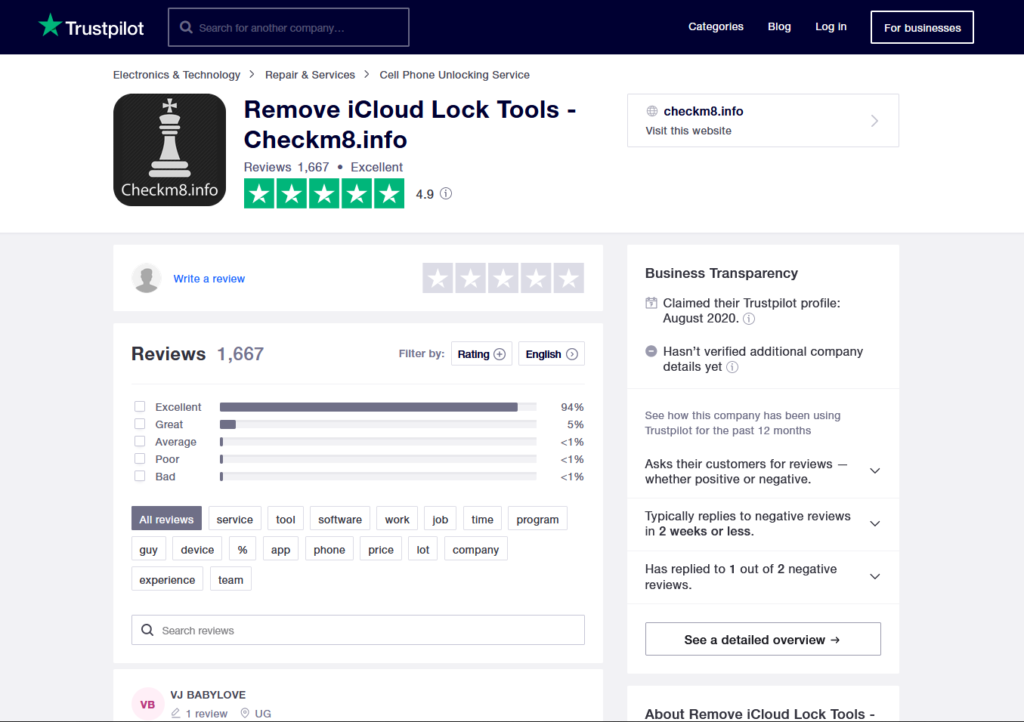 UnlockMySIM
Sometimes, it's nice to see a no-frills website that gets down to business. That's exactly what UnlockMySIM provides. The service is based in the US and has been in business since 2012. It provides unlock codes for a number of iPhone and Android models, making it a great pairing with your repair shop software.
UnlockMySIM provides additional services, such as iCloud removal, Google verification bypassing, and premium unlocking services for blacklisted phones. They even have a reseller program on the website for interested parties. Most of their activities are strictly related to unlocking, which makes them a great choice for a specialized service.
The company provides services in North America, the UK, Japan, Australia, and parts of the EU and South America. While their reach may not be as large as some others, they certainly cover a wide range of networks from these regions. In terms of payments, UnlockMySIM accepts PayPal and major debit and credit cards (Visa, Mastercard, AMEX). This means that you should have little trouble paying for the unlock. Sadly, there are no other payment options besides the two.
Sadly, the service hasn't received many reviews online to help pacify buyers. TrustPilot ranks them with a 3.6/5 based on 5 reviews only, and it doesn't help that their Facebook page has only one review. The company does have a 4.8/5 rating on Endorsal based on 150 reviews, and there's little reason to believe they're sketchy.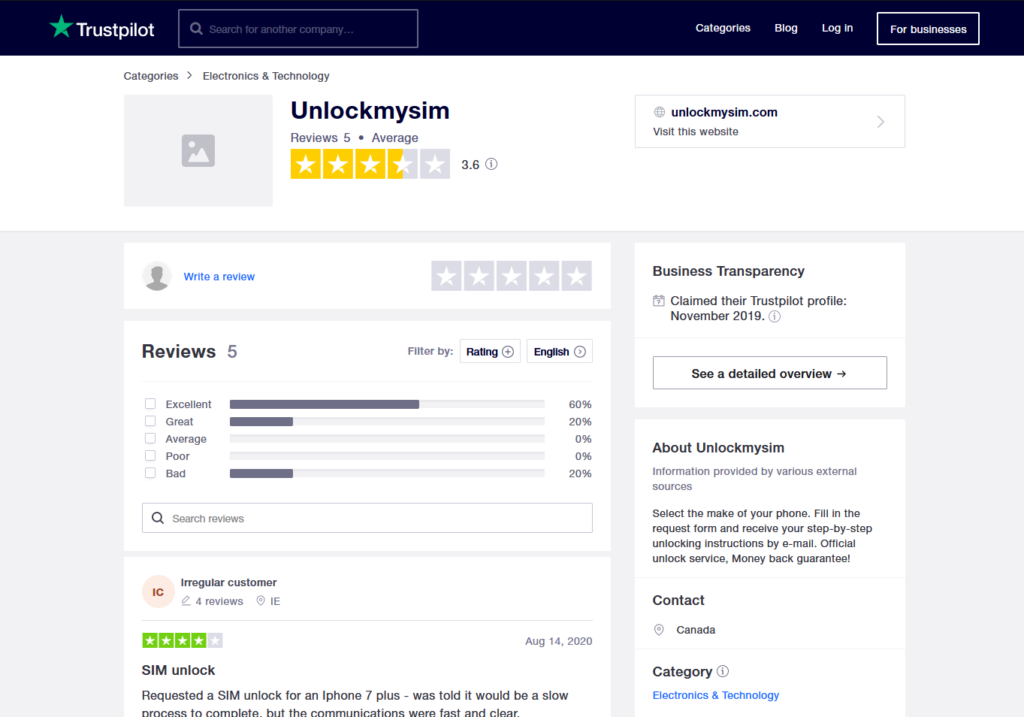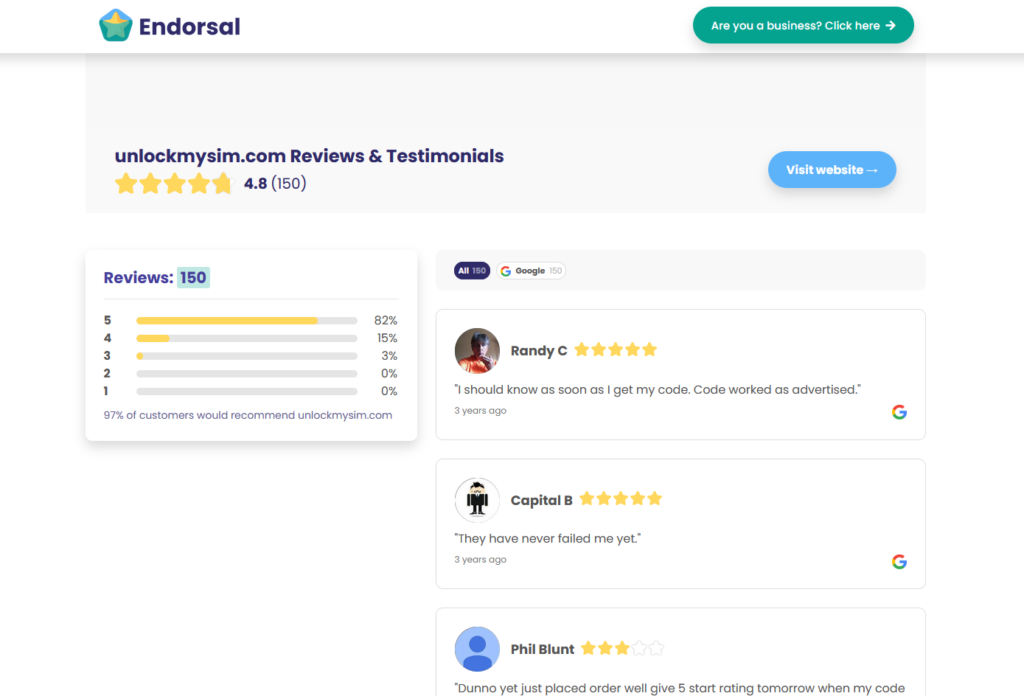 Conclusion
That's it for our list of the top network unlocking sites for your repair shop software in 2021. With these tools, you can easily unlock the phones that come into your repair shop. Remember to pay special attention to the reviews of these and other services; they're very important. And while you're at it, learn how your repair shop can collect 100 reviews in 6 months to boost your sales as well.
And while you're here, be sure to give RepairDesk a shot for all your repair shop management software needs.
Sign Up for a 14-day FREE Trial!