No business should ever take a break from improvement. It should keep on changing itself for the better to evolve into its best avatar. That is exactly what we do at RepairDesk. We keep our customers in the loop on the latest improvements in our cell phone and computer repair shop software, and fix the things they say need a little spiff. In our latest web release, we have taken care of a major tax report glitch.
Out of all the reports, the tax report is vital because it tells you how much tax is going out of your store. But if you already have a tax report in your POS system, then what is this new one about? 
Challenge: taxable and non-taxable items
One trouble with the old report was its miscalculations of taxable and non-taxable items. The old system was based on sale-wise taxation maths. So if an invoice had multiple, say one taxable and two non-taxable items, the past report would label the whole invoice as taxable. Consequently, the system slipped into calculating tax on the total amount of that invoice and adding it in the report. 
Solution: item-wise tax calculations
The new tax report will get rid of this inaccuracy of distinguishing between taxable and non-taxable items. Its algorithm will differentiate the two by item labels instead of invoices, and calculate tax values only for those items that are taxable. 
Here's the view of the new report of your Computer Repair Shop Management Software.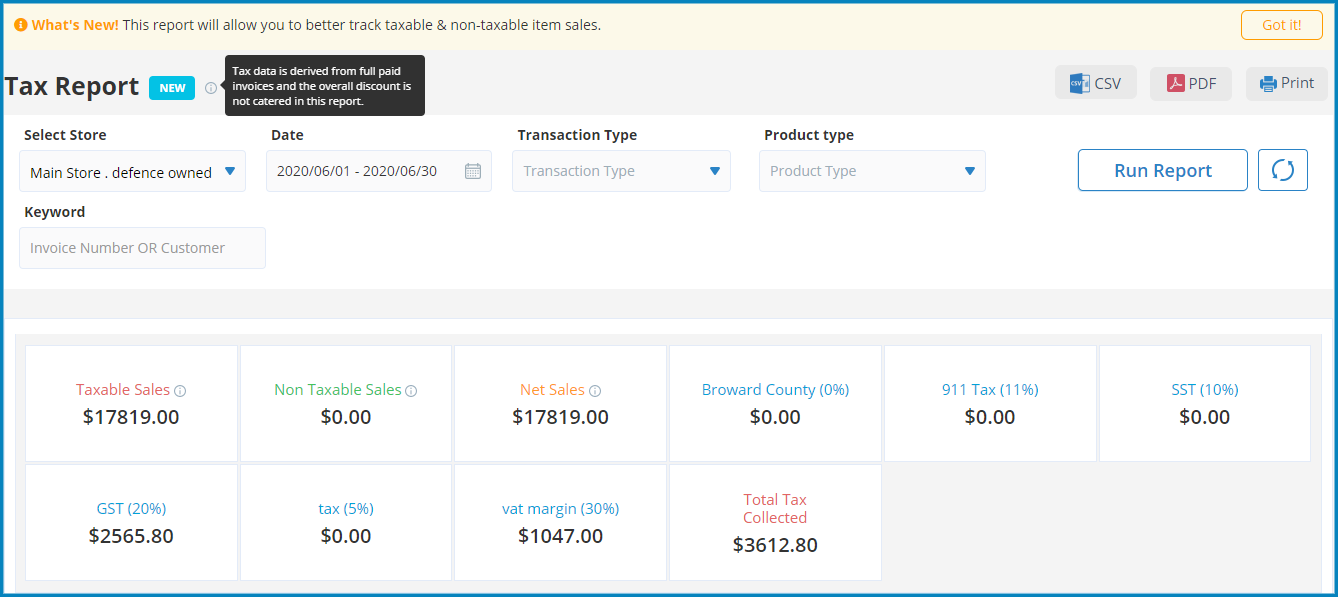 First, you'll see your taxable sales (sum number of all taxable items) and non-taxable sales, and then the net sales. So you have a clear picture of how much out of the total sales is being taxed and how much is tax-free. 
Next, the report shows you the total tax collected, with a breakdown of all different taxes that you've configured in your repair shop software. Nice and precise!
Learn More About the New Tax Report
Happy taxing!
The new tax report is here to take care of all your tax numbers and figures with full accuracy. Please note that only paid sales are covered under this report, and discounts are not included in the calculations. We hope that this new addition in RepairDesk reports attends to your taxing concerns and serves your business the best. Let's grow and evolve together!